UN funding on decline
Bangladesh to receive $1.22b in next 4 years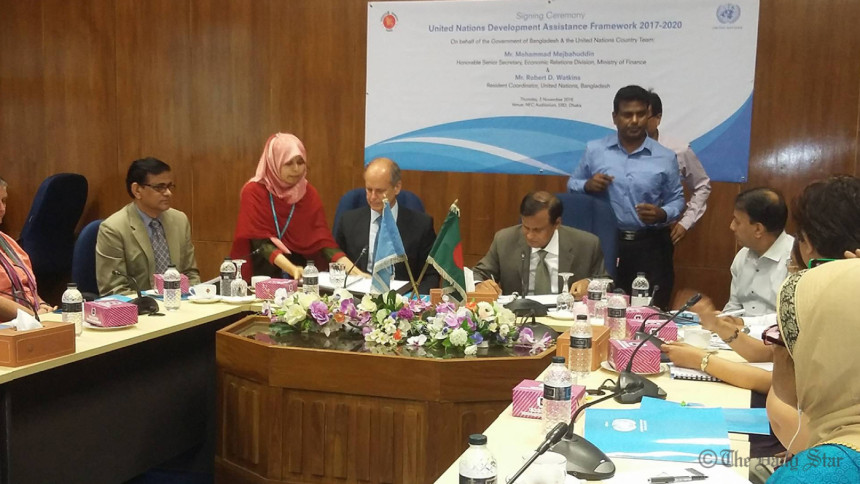 The United Nations funding for Bangladesh is declining.
The country will receive $1.22 billion in the next four years beginning 2017 from $1.76 billion in the previous five years.
This was revealed at the signing ceremony of the United Nations Development Assistance Framework (UNDAF) 2017-2020. The programme was attended by heads of different UN bodies and government officials.
Economic Relations Division Senior Secretary Mohammad Mejbahuddin and UN Resident Coordinator in Bangladesh, Robert Watkins, signed the agreement.
"We are going to get a little less from the UN this time," Mejbahuddin said at the NEC auditorium of the Planning Commission yesterday.
The government will take up and scale up projects now funded by the UN that are making solid contributions to the national development.
The grants committed for the period of 2017 to 2020 under the UNDAF is aligned to Bangladesh government's policies of seventh five-year plan, Vision 2021 and Sustainable Development Goals (SDGs), UN official Carlos Acosta said in his presentation on the UNDAF.
The agreement is generally prepared for five years but this time has been designed for four years to align with Bangladesh's development policies, he said.
Bangladesh, which joined the rank of low middle income country in 2014, is set to become a middle income country by 2021 through accelerated growth, while the UN's basic principle in the SDGs seeks to leave no one behind.
Carlos said the funding for 2017-20 would be used based on the UN core programme principles - human rights approach, gender equality, environmental sustainability, capacity development and result-based management.
Mejbahuddin appreciated the UN's continued contribution in Bangladesh through technical and programmatic support.
A UN official told The Daily Star appreciation of US dollars, refugee crisis in Europe and Bangladesh's economic development could all be reasons why many donor countries have reduced their grants.
Professor Dr Shamsul Alam, member of General Economics Division of the Planning Commission, however, said that the reduced funding would not have any negative impact on development works.
The bigger infrastructural projects are not funded through the UN but development banks like the World Bank and the Asian Development Bank, he pointed out.
UN Population Fund Representative Argentina Matavel Piccin told this correspondent that the UN mainly focuses on human rights, gender equality, health, education and environment and such areas in which a country is lagging behind.
Bangladesh can invest in social sectors from other sources, she said.  
UN Resident Coordinator Robert Watkins said the UN has some comparative advantages to help the country in a nimble way by adopting to changes.
"We have a very wide international network of experts and people that we can bring in to help respond to your changing needs," he said.
Watkins also said transparency and accountability are two areas that need to be focused on during project implementation.  People in the urban slums and remote parts of the country are lagging behind and need extra attention from the authorities.