Traders block busy road for 4 hours
Traffic disruption in the capital's Nilkhet causes public sufferings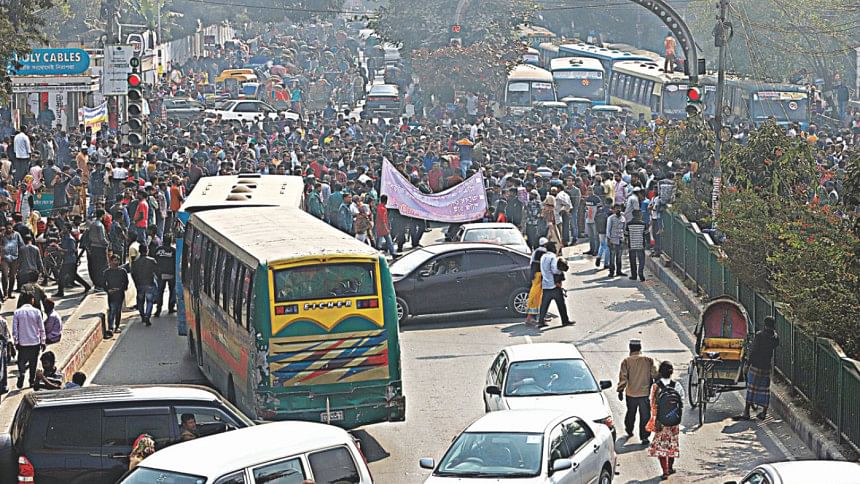 Traders of New Market and their employees blocked Nilkhet intersection for around four hours yesterday, protesting Dhaka South City Corporation's plan to turn the market into a two-storey building.
The blockade created long tailbacks that left city dwellers stranded. Several hundred people, particularly those who used Mirpur Road and its adjacent streets, had to walk to their destinations.
The demonstrators closed their shops and occupied the intersection around 12:45pm. They chanted slogans and delivered speeches, demanding withdrawal of the DSCC's decision.
Mahmudul Hasan, who works at a private organisation, told this correspondent that he got into a bus along with his friend to go to Azimpur from Kalabagan around 1:00pm. But they had to get down as the bus could move only 100 yards within half an hour due to the tailbacks.
They then arrived at their destination by a rickshaw and on foot, he added.  
Around 4:45pm, local lawmaker Sheikh Fazle Noor Taposh went to the spot and assured the protesters of taking steps to meet their demand.
He urged them to call off their blockade, considering how the people on the street were suffering.
The lawmaker hoped that the city corporation would reconsider its decision.
The demonstrators left the area on Taposh's assurance around 5:00pm. 
The protesters claimed that the New Market was built in 1952 and deviation from the original plan and adding another floor would reduce its appeal.
They would again take to the streets if the authorities did not change their decision, said Aminul Islam, a shop owner at the market.