Tangail road crashes kill 14 in 24 hours
Eid holidays turn tragic as 8 members of two families die in microbus crash; 2 more killed while racing motorbikes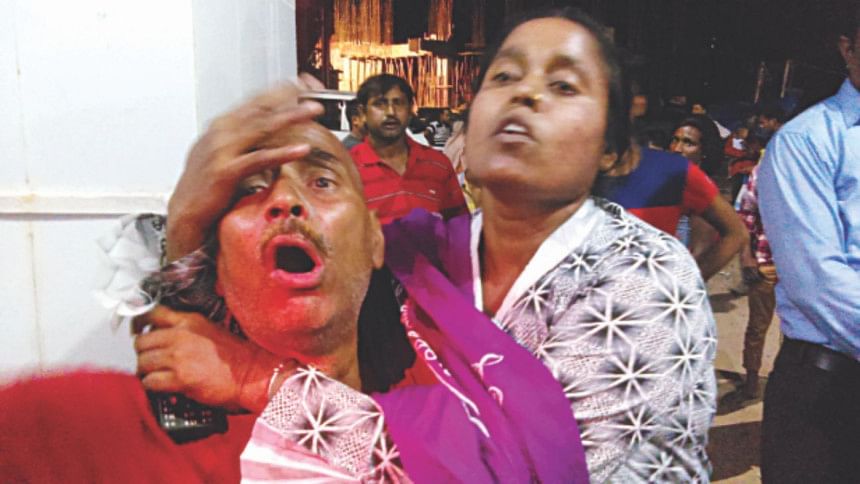 At least 11 people, including eight members of two families, were killed and seven others were injured in road accidents in Tangail and Madhupur upazilas yesterday.
A microbus heading towards Dhaka from Sirajganj collided head on with a truck at Khudirampur on Dhaka-Tangail highway while overtaking an auto-rickshaw around 3:00pm. The collision left four people dead on the spot, said Sub-Inspector Jahangir Alam, in-charge of Elenga Highway Police Outpost.
Five more injured passengers of the microbus died at Tangail General Hospital, he said.
It was raining when the accident happened.
SI Mohammad Jakir Hossain of Tangail Model Police Station said Moniruzzaman Ratan, 40, an employee of the heath department, his family, and several of his in-laws were returning from his father-in-law's home in the rental microbus after spending Eid holidays in Sirajganj.
Moniruzzaman's wife Tahmina Akter Soma, 32, son Rezvee, 12, mother Momotaz Begum, 60, mother-in-law Hazera Begum, 55, father-in-law Kasim Uddin, 60, brothers-in-law Raihan Uddin Shuvo, 30, Sohel Rana, 25, his relative Misha, 8, and driver of the microbus Bhulu, 32, were killed.
Moniruzzaman, his brother Saiful Islam Papon, his relatives and Misha's parents Shapla and Monsur, their four-year-old son Siam and one Sagar were in critical condition.
Trucker Omar Faruk, 40, and Shapla were sent to Dhaka Medical College Hospital as their conditions deteriorated.
The microbus was wrecked beyond recognition. 
Meanwhile, two youths were killed after their bike skidded off the road at Telki of Madhupur around 12:30pm.
Sohag, 26, with Himel, 24, as pillion was reportedly racing with other bikers on their way to Tangail from Mymensingh said Shafiqul Islam, officer-in-charge of Madhupur Police Station.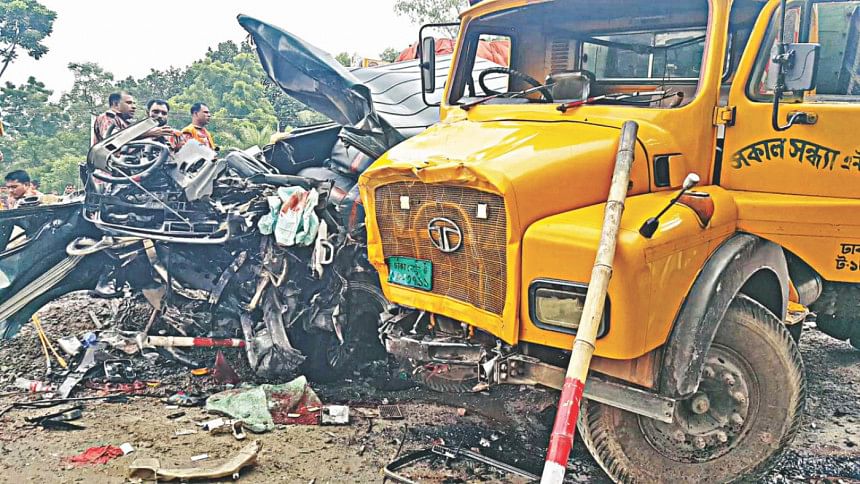 Sohag lost control and he died on the spot.
Seriously injured Himel was first taken to Tangail General Hospital. As his condition was critical, doctors referred him to Dhaka Medical College Hospital but he died on his way to Dhaka, he added.
On Wednesday afternoon, three members of a family, including
two children, were killed when a bus ran them over at Dubail of Delduar upazila on Dhaka-Tangail highway.