Swamped again
Streets of Dhaka, Chittagong go underwater after moderate rain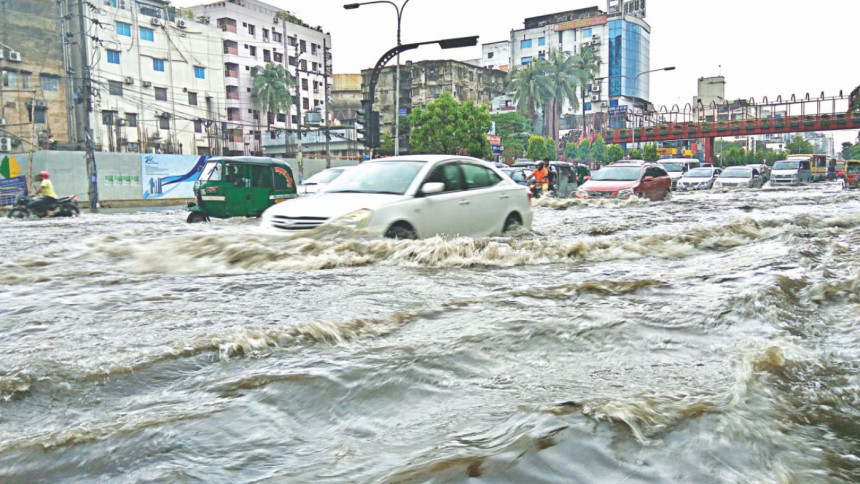 Moderate rainfall yesterday once again inundated parts of several major streets in the capital causing huge traffic congestion in the afternoon.
Traffic movement on Mirpur Road from Dhanmondi stretching up to Gabtoli, Farmgate, Motijheel, Gulistan and Mirpur-10 intersection remained very slow due to waterlogging.
"Rain has become a horrifying matter for us," said Md Jahir, driver of an Azimpur-Gazipur bus.
According to the Met office, 55mm of rainfall was recorded between 6:00am and 6:00pm in the capital yesterday.
The rain was due to the active monsoon, said an official, adding that it was likely to continue today.
"After a spell of scorching heat in the last few days, I was happy when it began to rain. But now I think I am OK with the hot weather than wading dirty water," said Sohana Begum while heading to Farmgate from her Karwan Bazar office.
Since several streets were partially submerged, vehicles used one lane, resulting in congestion, said Adibul Islam, assistant commissioner of traffic in Tejgaon zone.
The dwellers of Chittagong city also suffered from waterlogging.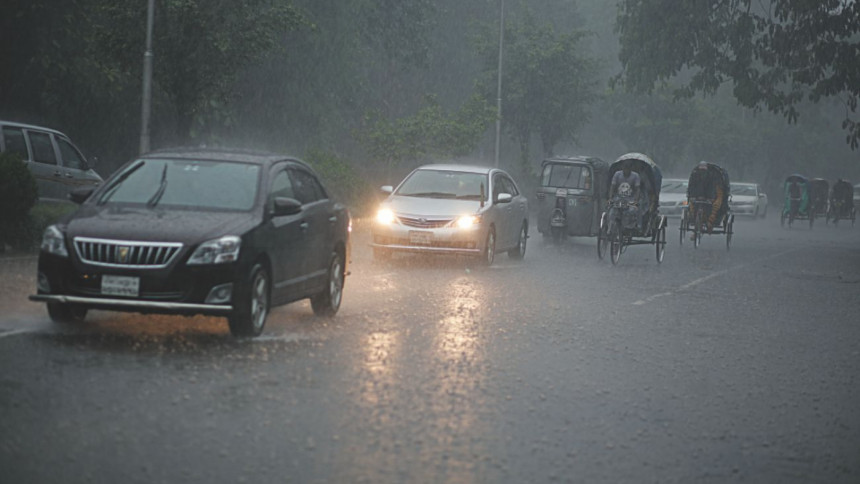 Yesterday's downpour submerged Halishahar, CDA Residential, No 2 gate, Muradpur, Mohammadpur, Chawkbazar, Shulakbahar, Prabartak and Hamjarbagh areas of the city.
Rainfall was recorded at 46.2mm between 12noon and the previous night, Meghanath Tounchangya, assistant meteorologist of Bangladesh Meteorological Department, Chittagong office, said.
Even though the water started to recede in other areas of the city after 12:00pm, CDA Residential and Halishahar areas were still waterlogged as the tide came in, worsening the condition further.
Water at CDA Residential area started to recede at 3:30pm with the tide, said the metrological department.
Several schools in Halishahar including Silver Bells Girls' High School, Housing & Settlement Public School and Bidyaban Shishu Academy were forced to suspend classes due to the rain.
Sajeda Akhter, assistant head teacher of Silver Bells Girls' High School, said, "Waterlogging forced us to suspend academic activities as the children could not come to school."
The waterlogging also hindered regular traffic movement as many vehicles had to take detours.
Taking advantage of the situation, transport workers charged commuters exuberantly.
Delwar Hossain, a dweller of K-block area of Halishahar, said he could not go to work yesterday as the entire street from his home to work was under water.