Sudhin Das no more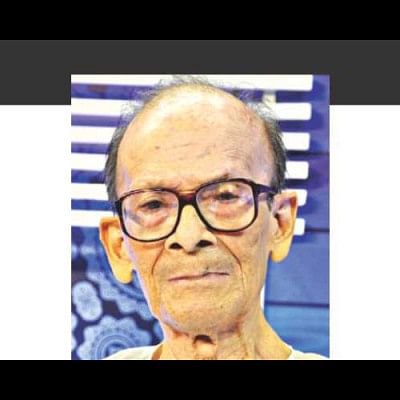 Preeminent singer, researcher and music teacher Sudhin Das, who made monumental contributions to ensure the practice of Kazi Nazrul Islam's songs in their original melody, passed away in the early hours of June 27, at the age of 87. He was suffering from various old age complications and was admitted to the capital's Apollo hospital the same morning.
Born on April 30, 1930 in Comilla's Bagichagaon, Sudhin Das got his first music lessons from his elder brother Suren Das. His first performance on Pakistan Radio came in 1948. When Nazrul's songs gained popularity on radio around 1954-55, many singers started singing it without a care for the original tunes. Sudhin Das, who had grown up listening to Nazrul's songs on old gramophone records, undertook the mammoth task of collecting the old records that were made in Nazrul's lifetime and documenting the original swaralipi (musical notations) of the songs. He published 33 volumes of authentic Nazrul swaralipi against many obstacles, with the help of Nazrul Academy and Nazrul Institute. It was due to his efforts that the original tunes of Nazrul were preserved. Sudhin Das was also a revered teacher of Nazrul songs, and many of the country's top Nazrul Sangeet artistes are his direct students. Apart from Nazrul songs, Sudhin Das also wrote swaralipi for Lalon's songs.
Sudhin Das was honored with numerous awards and recognitions in his lifetime, including the Shaheed Altaf Mahmood Memorial Gold Medal (1985), the Ekushey Padak (1988), Nazrul Padak (1999), Churulia Nazrul Academy's Nazrul Award and many others. He was a teacher at Nazrul Institute and Nazrul Academy, and served on the jury for many musical and cultural boards.
President Abdul Hamid and Prime Minister Sheikh Hasina expressed their grief at the luminary's demise in separate messages.
Sudhin Das is survived by his wife Nilima Das and daughter Suporna Das. His only son, guitarist-songwriter Niloy Das, passed away in 2006.
Nazrul enthusiasts can pay homage to the singer at 10am at Nazrul Institute today, where his body will be taken this morning. Later, people from all walks of life will pay their last tributes to him at Central Shaheed Minar from 11am to 12:30pm. His cremation will take place at Postogola.