Spectacle of lights, vibration of spirits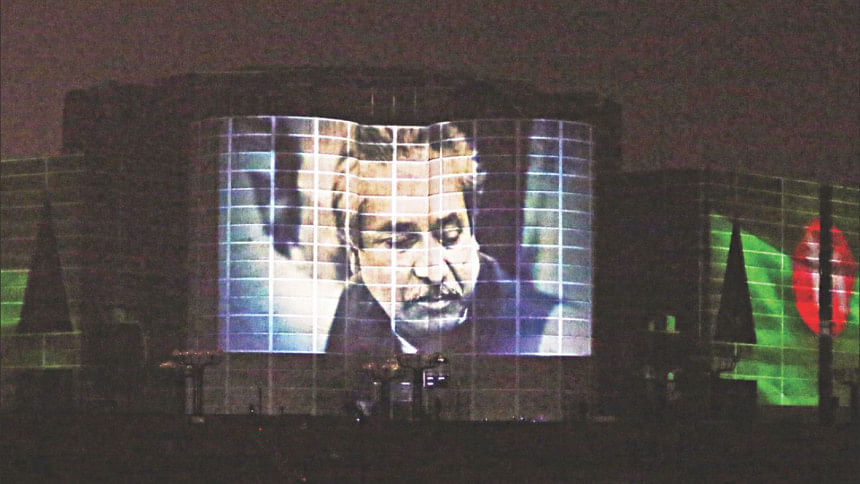 Hundreds of people lit candles on Manik Mia Avenue on Friday, remembering the tragic night of March 25, 1971 when the Pakistani occupation army swooped on unarmed people in Dhaka.
Participants, including government officials, cultural personalities and youths, pledged to build a country without hunger and poverty.
The event, "Alor Jatra (journey of light)", began at 11:45pm, organised by Grameenphone with private television Channel i as media partner.
Earlier in the evening, a spectacular 3D projection mapping arranged by the planning ministry featured rare pictures of Father of the Nation Bangabandhu Sheikh Mujibur Rahman and other historic pictures of 1971 in the parliament building's South Plaza.
Addressing the crowd just before midnight on Manik Mia Avenue, Speaker of the House Shirin Sharmin Chaudhury said the nation went to war after the massacre on the night of March 25.
"It is the responsibility of the new generations now to drive hunger and poverty out of the country."
State Minister for Telecom Tarana Halim urged youths to make proud those who gave up their lives during the Liberation War so that their descendents could have a country.
Individuals who had witnessed the ruthlessness of the Pakistani military shared the stories of bravery in Bangladeshis surviving the carnage and overcoming fear in the struggle to freedom.
Eminent actor Aly Zaker recalled how he had survived the carnage by the Pakistani army.
Poet and writer Syed Shamsul Haq, theatre personality Nasiruddin Yousuff, writer and media personality Faridur Reza Sagar, media personality and agriculture development activist Shykh Seraj, among others, spoke at the event hosted by actor Shomi Kaiser.
Grameenphone's CEO Rajeev Sethi said, "Over the last four and a half decades, Bangladesh has defied all odds to be identified as potentially one of the biggest and most prosperous developments in the world. To achieve that potential, the Bangladeshi citizens must keep the spirit of independence alive in their hearts."