Sirajganj JMB chief, three militants held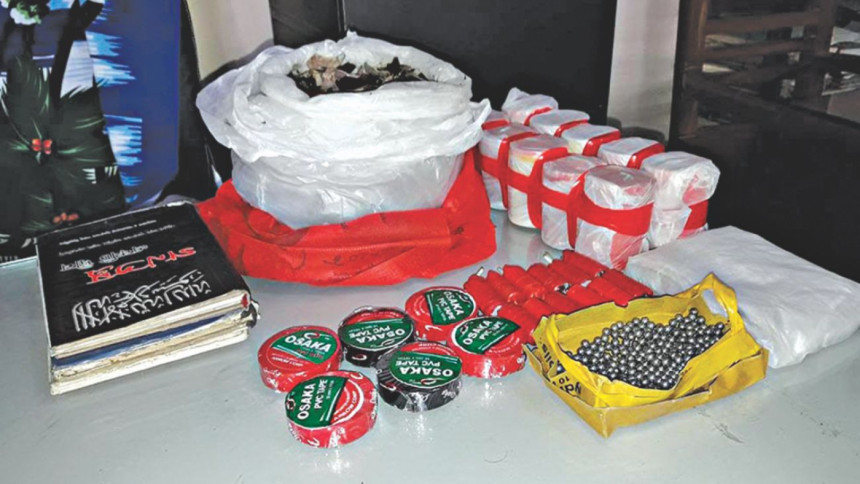 The Detective Branch (DB) of Police has arrested the alleged JMB chief of Sirajganj, his two sons and another man at Erandah village of Ullapara early Tuesday.
The DB arrested the four men from inside Jamiatul Quran Cadet Madrasa and also seized a large quantity of gunpowder, some crude bombs and books on Jihad.
The arrestees are: Joynal Abedin, 55, his sons Borhan uddin, 28, and Imran Ali, 26, and Abu Bakar Siddique, 55. According to police, they were the local organisers of the banned militant outfit Jama'atul Mujahideen Bangladesh (JMB).
Police, acting on a tip off, detained them when they were holding a secret meeting, Abu Yousuf, additional superintendent of district police, claimed. They seized one kilogram of gunpowder, 10 crude bombs, a large amount of bomb-making materials and several inciting books, he said.
Joynal Abedin is the designated most senior in the local body of JMB and a key organiser of Sirajganj JMB, he claimed, adding that he used the madrasa and his two sons for this purpose.
"Joynal is the brother-in-law of top JMB leader Tarikul who was killed earlier this year in Sherpur of Bogra."
Another son of Joynal, Raihan, was earlier detained in Bogra and remains in jail.
Meanwhile, at a press conference held at the Sirajganj police superintendent's office on Tuesday SP Miraz Uddin Ahmed said the arrestees raised funds from JMB operatives in the district to run their organisation. "They collected funds from recruited JMB operatives in the name of religious activity and deposited it with Abu Bakar Siddique," the SP said
The detainees once belonged to Ahale Hadith and got involved in JMB a long time ago through Tarikul, according to police.
Some 25 JMB operatives, including eight females, have been detained in Sirajganj over the last three months.