Shibir man killed in 'gunfight'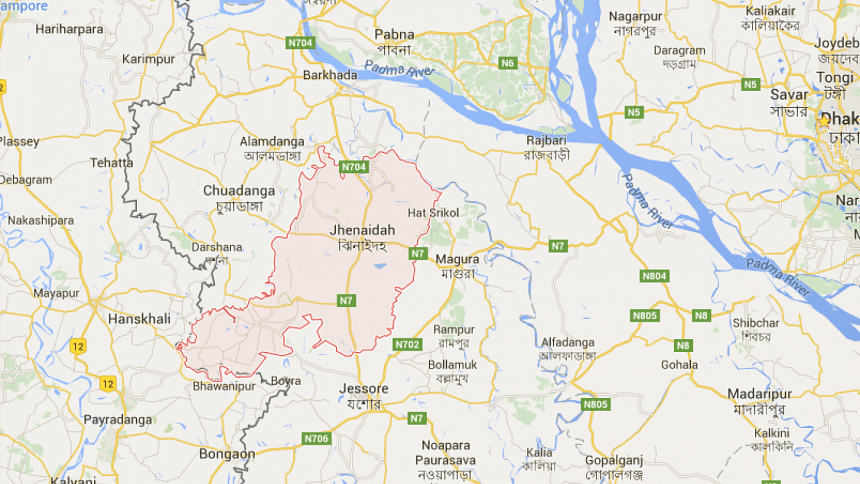 An activist of Islami Chhatra Shibir, pro-Jamaat-e-Islami student body, was killed in a "gunfight" with police in Jhenidah Sadar upazila early yesterday.
The dead is Saiful Islam Mamun, 22, son of Lutfor Rahman of Putimari village in Shailkupa upazila. He was a final year student of Arabic literature department at the Islamic University, Kushtia.
Ajbahar Ali Sheikh, additional superintendent of police in Jhenidah, said around 3:00am, a police team was patrolling on Dhaka-Jhenidah highway near Madhupur-Aruakandi graveyard. Some criminals hurled crude bombs at the police van.
The law enforcers returned fire, triggering the "gunfight". At one stage, Saiful was caught in the line of fire and died on the spot. Others managed to flee, the police official said.
Police also claimed to have recovered a firearm, five crude bombs, some bullets and a sharp weapon from the spot.
Saiful's father Lutfor and his cousin Nasir Uddin alleged that plainclothes police picked up Saiful from a mess in Pabahati village in Jhenidah town on July 1.
Contacted, Ajbahar Ali said they did not pick up Saiful and claimed that he was killed in the "shootout".
Saiful's body was sent to Jhenidah Sadar Hospital morgue for an autopsy.
Our Benapole correspondent adds, an alleged drug trader was killed during a gun battle between drug peddlers and robbers at Barandipara in Jessore town.
The dead is Nesar Uddin, 32, son of Abdul Gaffar of Bezpara in Jessore.
Ilias Hossain, officer in-charge of Jessore Sadar Police Station, said Nesar, who stood accused in seven criminal cases, was killed when a robber gang exchanged bullets with some drug peddlers around 3:00am. 
However, Ali Hasan, elder brother of the victim, alleged that his brother was picked up by police when he was going to the house of his relatives around 8:00pm on Sunday night.
The OC, however, denied the allegation.
Nesar was a worker of Sony Engineering, a motor workshop at Bakchar in Jessore town, his relatives said.