Saudis want 4 lakh workers
Eager to recruit 2 lakh female workers from Bangladesh, along with same number of males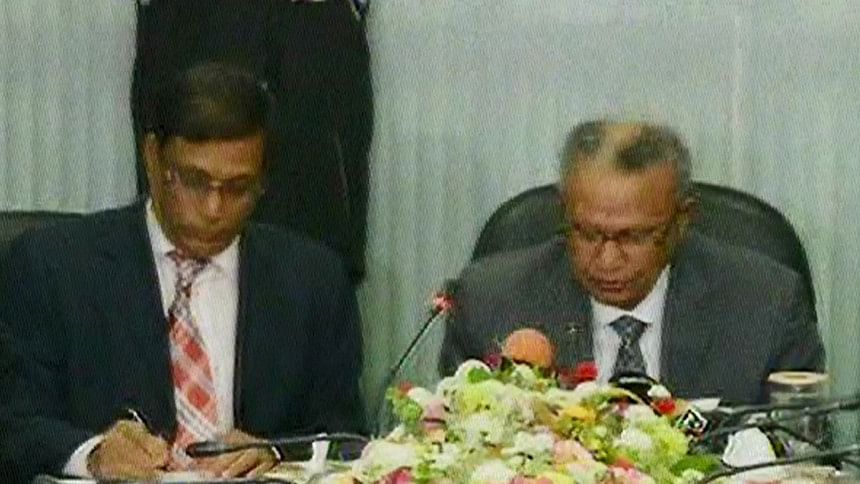 Saudi Arabia has put forward its demand for more than four lakh Bangladeshi workers -- at least half of whom must be females -- in its domestic service sector.
It at first expressed interest in recruiting females only as domestic helps but then upon negotiation agreed to take male workers too, Expatriates' Welfare and Overseas Employment Minister Nurul Islam yesterday said at a press conference at the ministry's auditorium.
"As Saudi Arabia was insisting on its demand for female workers, we said they have issues of protection, food, homesickness," he said, referring to his meeting with the Saudi labour minister in Riyadh in the last week of December.
He then made a proposal to the Saudi authorities that each female could be employed along with one of her close male relatives, to which they agreed, the minister said.
The close relative may be brother, cousin or husband, he said, adding both females and their male relatives would not have to pay a penny to get recruited.
Saudi Arabia has the demand for these many female domestic workers at present, an official told The Daily Star.
Male workers will be recruited as drivers, gardeners and home supervisors, said Expatriates' Welfare Secretary Iftekhar Haider. 
Apart from the recruiting mechanism already in place, the government will train at Kurigram Technical Training Centre 100 female workers from 12 former enclaves of the district and arrange jobs for them in the garment sector in Jordan this year.
A joint group of Saudi and Bangladeshi governments will soon be formed to finalise salaries and other facilities of migrants, Iftekhar added.
Saudi Arabia last year signed an agreement with Bangladesh to recruit 10,000 female workers every month, but only 21,000 went to the Middle Eastern country for work that year. 
The Arab country that has been hiring fewer male workers since 2008 expressed its dissatisfaction over the low inflow of female migrants from Bangladesh. The reason behind this, rights groups say, might be negative perception of female workers' situation there.
The top labour markets of Bangladeshi female workers include the United Arab Emirates, Jordan, Saudi Arabia, Oman, Lebanon and Qatar that employ them mostly as domestic helps, said Joint Secretary Kazi Abul Kalam of the expatriates' welfare ministry.
The number of females flying overseas for work each year went up to more than a lakh in 2015 from only 30,000 four years earlier, with record 36 percent growth in the last one year, he added.
Female workers' migration from Bangladesh has been rising because the Philippines, Sri Lanka and Ethiopia stopped sending female workers to some of those countries following allegations of abuses and low wages, said Shakirul Islam, executive director of Ovibashi Karmi Unnayan Programme, a community-based migrants' organisation. 
Amid the growth of migration, workers' training, monitoring and protection mechanisms and their functioning are crucial, he told The Daily Star.
Of the Middle Eastern countries, only Jordan has a labour law that incorporates domestic migrant workers. Bangladesh has to talk others into including issues of domestic workers in their labour laws.
According to the official data, 5.55 lakh Bangladeshis secured jobs overseas in 2015, which is 30 percent higher than that of the previous year. The remittance from Bangladeshi overseas workers also increased -- to $15.32 billion in 2014-15 fiscal from $14.23 billion a year earlier.