Rush for Old Dhaka iftar on
Sexagenarian Md Zahid Hossain never started his Ramadan without iftar items from Chawkbazar since 1970s, as he cannot break his fast without the popular dish "Barobaper Polay Khay."
"Not only me, my three daughters are also very keen on traditional item for which every year I become the first customer of a makeshift shop at Chawkbazar," said Zahid, who lives in Dhanmondi and was seen busy buying his favourite dish yesterday on the first day of Ramadan.
"Almost every day of Ramadan I try to keep the special item on the menu of our iftar as it is very delicious and very unique," he said.
Mohammad Chanmia, who came to buy Barobaper Polay Khay, Doibora, chicken fry and some other special items from Jinjira in Keraniganj, said it has been one of their family traditions to sit for iftar with Chawkbazar dishes for past two decades.
"I have heard a lot about these iftar items, for which I have come alone here to see for myself," said a young girl who came to the market from Narayanganj to have some traditional iftar items.
Not only Zahid and Chanmia, the more-than-one-hundred-year-old Chawkbazar iftar market, the largest of its kind, attracts thousands of people from all over the country.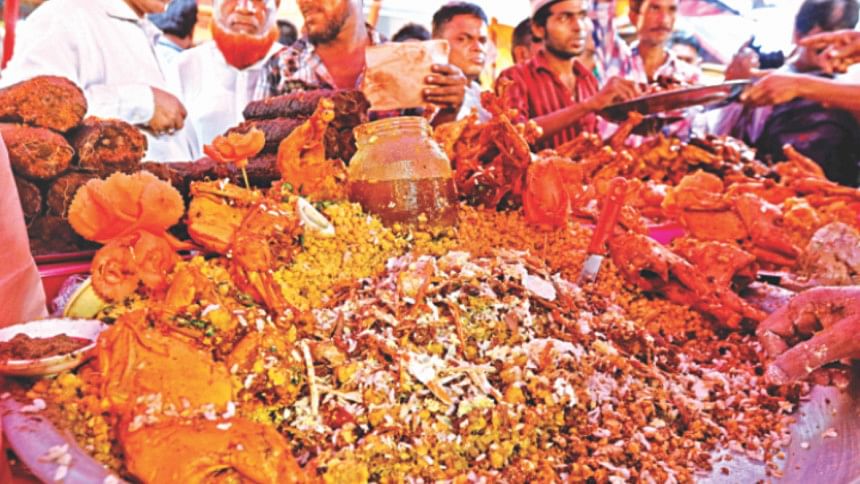 People from all walks of life gather at the market during Ramadan to buy varieties of iftar items, which are unique in both taste and look. More than 100 makeshift shops sell items prepared from meat, vegetables, sweets, milk and other ingredients. Some iftar items can be traced back to the Mughal era.
Apart from the dish Barobaper Polay Khay, other well-known dishes include giant beef, chicken and mutton roasts, pigeon roast, koel roast, kima roll, kima paratha, borhani, doi bora and different types of kebabs, including Shami, Suti, Jali, Irani and Tika.
Like every year, hundreds of people gathered in the market on the first day of Ramadan yesterday, but both the sellers and customers had to face sufferings due to inclement weather.
Salekin, who was offering Barobaper Polay Khay at Tk 400 per kg, mutton kebab at Tk 800, beef kebab at Tk 600 and chicken roast at Tk 400, said he has been doing this business since the Pakistan era.
"We have been in the business since the British era. My grandfather first started the business from our family here and we are continuing it to maintain the tradition," Salekin added.
He said he along with his brother remains busy with other businesses the rest of the year but returns to iftar shops at this traditional iftar market during Ramadan.
Shahi jilapi, fried chicken, plain parathas, taler roshbori and doi bora are some of the rather unusual items available in the market. Roasted goat legs, pigeon, koel and heron also attract people to the traditional iftar market. In addition, there are seasonal fruits and local drinks on the list of items selling in the market.
Apart from these, Kima Samucha, Ponir Samucha, Kima Paratha, Tana Paratha, sweet Singara, beef stick, chicken stick and chicken burger, chicken toast and box faluda are also available.
Traders in other parts of the capital also opened up stalls since the beginning of Ramadan and are selling varieties of iftar items there. Hundreds of makeshift shops mushroomed in different areas of the capital.
Dhaka South City Corporation (DSCC) Mayor Sayeed Khokon yesterday visited the Chawkbazar iftar market and warned the sellers of taking stern action if anybody used chemicals or harmful colours in the items.