Rohingya Issue: FM briefs envoys of Myanmar's neighbours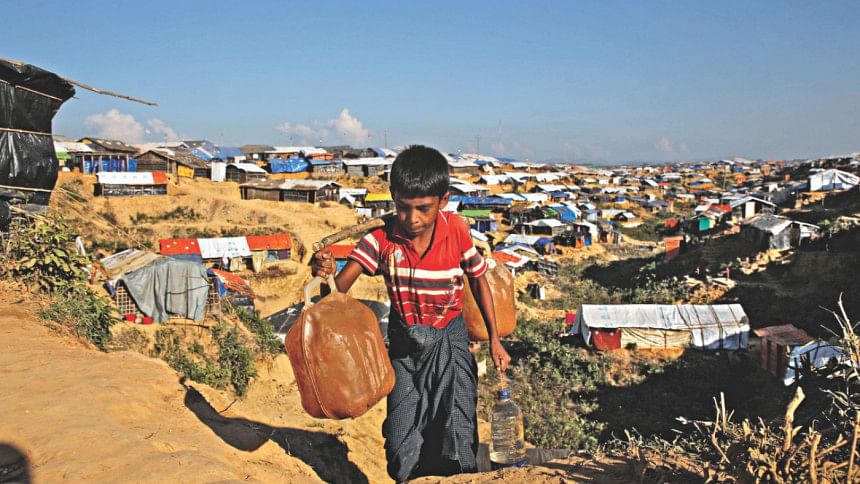 Foreign Minister AH Mahmood Ali yesterday met with envoys of the four countries sharing borders with Myanmar to discuss the ongoing Rohingya crisis.
The meeting comes right before the foreign ministers of China, Japan, Germany and Sweden arrive in Dhaka on November 18 for two days' talks with high government officials about a peaceful solution to the Rohingya situation.
The ministers will then travel to Myanmar's capital Nay Pyi Taw to attend the 13th ASEM Foreign Ministers' Meeting scheduled for Nov 20-21.
Foreign minister AH Mahmood Ali met with the High Commissioner of India, the Ambassadors of China and Thailand in Dhaka, and the New Delhi based Ambassador of Lao PDR at the state guesthouse Padma yesterday morning.
According to a MOFA press statement, foreign minister Ali discussed the ongoing situation of Rohingya refugees who have fled their homeland and taken shelter in Bangladesh with the envoy. He exchanged views with them and updated them on Bangladesh's efforts and engagement with international community in resolving the crisis.
He also discussed with the envoys about the Presidential Statement of the UN Security Council issued on Nov 6, and sought cooperation and support of their countries for a sustainable solution of the ongoing crisis.
The foreign minister touched upon the status of ongoing bilateral discussions with Myanmar on repatriation of the forcibly displaced Rohingyas.  He further informed the envoys that he cannot visit Nay Pyi Taw on Nov 16-17 as desired by Myanmar since the foreign ministers of China, Japan, Germany and Sweden are visiting Bangladesh at the time.
The foreign minister informed them that he is willing to stay back in Nay Pyi Taw on Nov 22-23, after the ASEM Foreign Ministers' meeting, for negotiation and finalisation of a bilateral "arrangement" on repatriation of Rohingyas who crossed into Bangladesh following persecution in their homeland.
In addition to the visit of the four foreign ministers, the Canadian Minister for International Development Marie-Claude Bibeau is also expected in Dhaka on Nov 21.
A delegation of the US Senate Foreign Relations Committee is also expected to visit Bangladesh this month.