21 died on roads every day
Says Jatri Kalyan Samity report on road crashes last year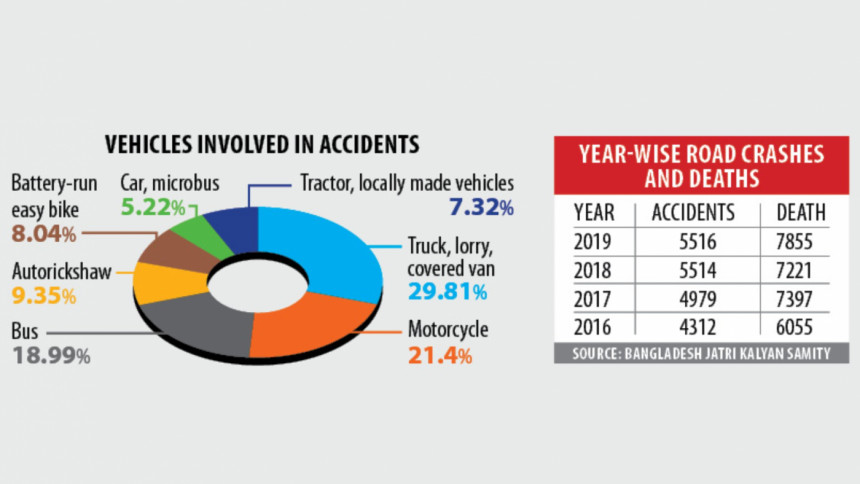 At least 7,855 people were killed and 13,330 others injured in 5,516 road crashes across the country last year, according to a platform working for passengers' welfare.
It means more than 21 people lost their lives on roads each day.
Although the number of such accidents remained almost the same from the previous year, the death toll increased by 8.07 percent, the platform -- Jatri Kalyan Samity -- said in its annual report released yesterday.
As many as 5,514 road crashes had claimed 7,221 lives and left 15,466 others injured in the country in 2018, said the Samity, which prepared the report based on data from newspapers and online news portals.
Samity's Secretary General Mozammel Hoque Chowdhury unveiled the report at a press conference at Crime Reporters' Association of Bangladesh auditorium in the capital.
The number of road crashes last year mentioned in the report is, however, significantly higher than the one given by Nirapad Sarak Chai, a platform that pioneered road safety campaign in Bangladesh.
According to Nirapad Sarak Chai, at least 5,227 people were killed while 6,953 injured in 4,702 road accidents across the country in 2019.
Jatri Kalyan Samity's report blamed reckless driving, risky overtaking, fault in road design, unfit vehicles, unskilled drivers, passengers and pedestrians' unawareness, use of mobile phones or headphone while driving vehicles, drunk driving, occupied footpath and poor enforcement of law for the road crashes.
Besides, a total of 469 people died and 706 others were injured in 482 railway-related incidents last year. On waterways, at least 219 died, 282 were injured and 375 went missing in 203 incidents, said the report.
The road crash victims included 989 drivers, 844 transport workers, 809 students, 115 teachers, 216 law enforcers, 36 journalists, 26 physicians, and 153 political activists, the report said.
A total of 7,356 vehicles were involved in the road crashes. Of them, 18.99 percent were buses, 29.81 percent trucks and covered vans, and 21.4 percent were motorcycles.
More than 56 percent of the accidents took place when vehicles ran over the victims while 18.38 involved head-on collisions between vehicles and 18.07 percent involved vehicles falling into roadside ditches.
The platform said the country witnessed a 4.26 percent decline in accidents involving motorcycles, due to strict monitoring of their operation.
Of the crashes, 32.38 percent occurred on national highways, 37.51 percent on regional highways, and 21.3 percent on feeder roads, it said.
According to the report, the highest number of accidents in a single day happened on June 15, when 27 people died and 121 were injured.
The platform, in its report, also gave 12 recommendations to prevent road accidents. They include proper implementation of Road Transport Act-2018, raising awareness on road safety through the media, reclaiming pavements and parts of highway from illegal occupants and providing training to drivers.