Reconsider the decision, please
Urge anti-Rampal coal plant campaigners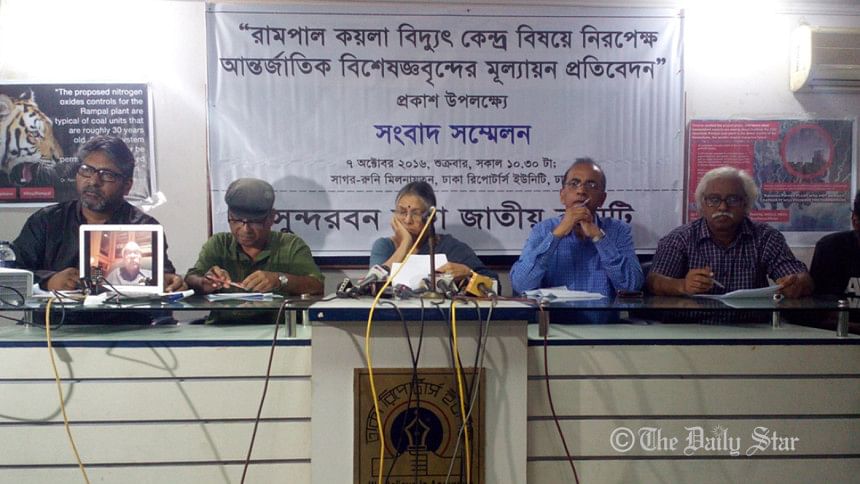 The proposed Rampal power plant might place Bangladesh in an economic straightjacket from which the country might not escape since it is a "second-class" plant for its outdated and inadequate technologies, say five foreign experts.
Even if the power plant is moved away another 10 to 40 kilometres, it will not bring any difference because of its technology, which is not sufficient to reduce air pollution, said Indian air pollution control expert Dr Ranajit Sahu.
Mentioning that the plant is not a state of the art, he said its proposed nitrogen oxides control technology is about 30 years old and such a system would never be permitted in the developed countries.
He said this over Skype yesterday in a press conference organised by the National Committee for Saving the Sundarbans (NCSS) at the Dhaka Reporters' Unity (DRU) for publication of an evaluation report of impartial international experts on Rampal plant.
Sahu, who taught numerous courses in several Southern California universities including University of California, Los Angeles, said the proposed controls for sulphur dioxide are not fully explained or substantiated in tender documents or in the Environmental Impact Assessment (EIA).
Convener of NCSS Sultana Kamal read out a summary of the other experts' opinions.
Water pollution expert at Waterkeeper Alliance Donna Lisenby said the coal ash pond is likely to eventually leak or spill due to earthquake or flood risks and contaminate the Sundarbans with arsenic, cadmium, hezavalent chromium, lead, mercury, thallium and uranium.
Around 26 kilometers from the Bay of Bengal to the plant site must be dredged to remove more than 34 million cubic metres of river bottom that provides habitat for fish, crustaceans and dolphins, she added.
Prof Deb Niemeier of University of California said roughly between 2 to 3.8 tonnes of fugitive coal dust will escape into the air and water every year.
"The proposed Rampal power plant water-only sprinkler system has been shown to be relatively ineffective at controlling dust. Coal dust escapes from stockpiles even with more stringent pollution control technologies including chemical surfactants which are not required at the power plant," he said.
Charles H Norris, a geologist who has 40 years of professional experience, said, "A coal-fired power station such as Rampal is inherently a bad idea in the proposed setting as the potential for environmental damage is substantial. Indeed, it would be difficult to identify a location less appropriate for such a facility."
Klaus H Jacob, Adjunct Professor, Lamont-Doherty Earth Observatory at Columbia University, said the "poorly planned" plant is exposed to very high risk of coastal storm floods and seasonal river floods, accelerated by climate change and sea level rise.
As the current design height of the plant's Coal Ash Pond Dam is 5.6 metre above the mean sea level, he estimates that with a predicted sea level rise due to global warming and under certain weather and tide conditions, a probable storm tide may be generated up to 7.4 metres that would inundate the entire plant leading to contamination of the Passur river.
The NCSS has called upon the prime minister to consider the independent analysis of experts and pay no heed to the government propaganda on the plant as it is "completely economically and environmentally destructive."
"We urge our prime minister to listen to the combined democratic voices of the experts and the people of Bangladesh and thereby cancel the plant," said Sultana Kamal.
Saying that Sri Lanka has recently cancelled such a project, renowned economist Prof MM Akash suggested that the government should rather consider gas- or solar-based power plants.