President recalls memories of Liberation War
Visits Balat village in Meghalaya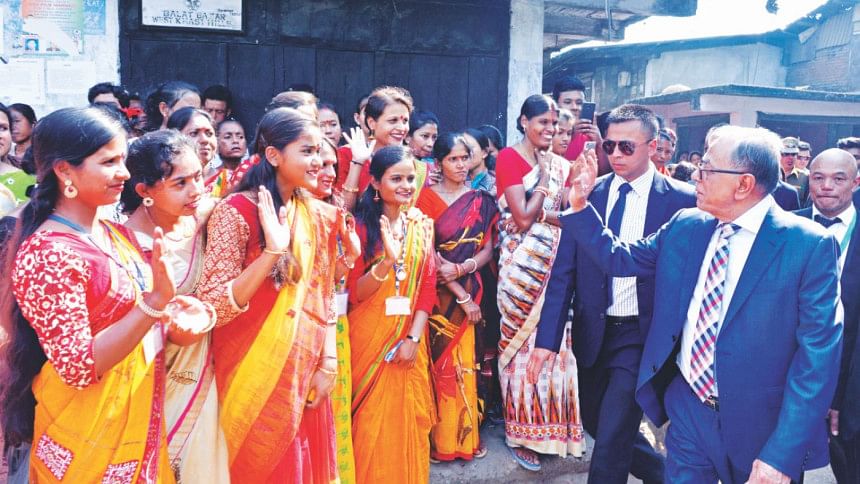 President Abdul Hamid yesterday visited Balat village in Meghalaya, where he stayed during the Liberation War, and recalled memories of those days.
During the war in 1971, Hamid along with his family was residing in a rented house at the village. He was also the sub-sector commander of the Bangladesh Liberation Force (Mujib Bahini).
He inspired and organised Bangladeshi youths, who took shelter at Gumaghat, Moilam and Balat in Meghalaya. He set up a youth reception camp at Balat for Bangladeshi youths and acted as president of the camp.
The president, who came to Guwahati on Thursday afternoon on a five-day visit to India, will attend the International Solar Alliance (ISA) summit of 121 countries to be held in New Delhi tomorrow.
He along with his wife Rashida Khanam and other family members went to Balat, a small village situated along the India-Bangladesh border, by an Indian Air Force helicopter from Guwahati.
The local administration along with people received the president at noon.
Two men named Marak and Rajat, who met Hamid at the village during the Liberation War, were also present. The president talked to them and recalled memories of those days.
Hamid also visited the house, where he had been staying during that time. He became emotional when visiting a tea stall at Balat Bazar, where he passed his first night after reaching the village.
Talking to locals, the president said the people of Balat sacrificed and suffered a lot for giving shelter to Bangladeshi refugees. "I should have come here much earlier after Bangladesh's independence, but I failed to do so."
"I reached Balat via Tekarhat, Gumaghat, Panchara and Moilam of Meghalaya to set up the youth reception camp here. I carried out the responsibility for the entire period of the Liberation War."
He said after the independence, he motivated Bangalee refugees to return home. "I finally returned to newly independent Bangladesh on January 10, 1972, the day when Bangabandhu also returned home. I still fondly remember those glorious days."