Poor highway causing pain
Thousands of passengers and transport workers remained stuck on Dhaka-Tangail highway for the second day suffering long tailbacks triggered by rains coupled with poor road condition.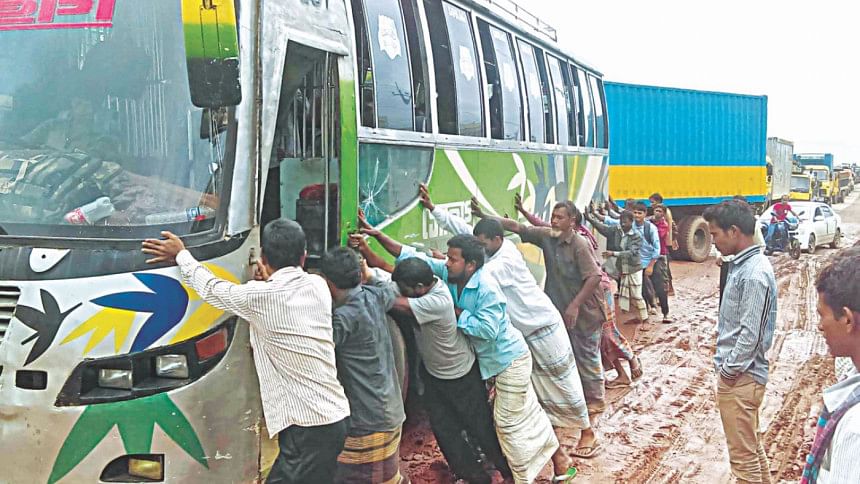 Thousands of passengers and transport workers remained stuck on Dhaka-Tangail highway for the second day suffering long tailbacks triggered by rains coupled with poor road condition.
Hundreds of vehicles were lined up on a 20-kilometre stretch from Elenga to Karatia and on another 20-kilometre stretch from Chandra Intersection to Mirzapur until yesterday noon, passengers and transport workers said.
Many of the passengers of the Rajshahi-bound buses who were supposed to take admission tests at Rajshahi University could not reach the destination on time. Vehicles remained waiting for a minimum of five hours before they got to move on the highway, they said.
"I along with my family members started from Gabtoli Bus Terminal around 10:00pm on Saturday to go to Nilphamari but reached only Tangail around 10:00am today," said Afaz Ali, a trader.
"Our bus was stuck over the night, at least for five hours, only at Kaliakair. My wife and young daughter suffered for lack of lavatory (toilet) facility on the road, which was at times unbearable," he added.  
AKM Mizanul Haque, officer-in-charge of Mirzapur Police Station, said vehicles moved very slowly due to potholes hidden under stagnant water.
Besides, the road had been dug up at different points for widening under the four-lane project, forcing vehicles to move slowly. The slow movement of vehicles worsened the situation, the OC said.
At some places, vehicles broke down right in the middle of the road and drivers fell asleep, stretching the tailbacks, he added. 
Traffic Inspector Sajedul Islam was seen struggling hard to ease the traffic congestion in Rasulpur area in the morning.
"The condition of the highway from Elenga to Rasulpur was bad even earlier. The road subsided at many points, and numerous potholes were enlarged in rains for the last two days," Sajedul said.
"Vehicles remain stuck for hours almost every day due to the battered road condition and the unplanned four-lane work ongoing," said Rasel Miah, driver of a Rangpur-bound bus.
Though the Roads and Highways Department did temporary repairing works on several occasions at the cost of crores of taka, the road condition became worse rather than improve, he said.
ADMISSION SEEKERS STUCK IN TRAFFIC JAM
Many of the admission seekers of Rajshahi University who were travelling on the route failed to take the tests.
Sourav Biswas, one of them, said he had boarded a Rajshahi-bound bus from Dhaka's Kallyanpur around 10:00pm on Saturday. He reached only Tangail bypass area around 10:00am yesterday morning.
"My exam is at 2:30pm. Now it is not possible to reach Rajshahi before the exam as our bus is still stuck at Elenga in Tangail [around 11:30am]," said Mohammad Rokibuzzaman, another admission seeker.
Antara Shimu wanted to study in social science faculty at Rajshahi University. But by the time she would reach Rajshahi from Dhaka, her admission test would be over. The five-hour journey on the route at usual times took her more than 20 hours due to traffic jam.
She left home in Dhaka at 9:00am on Saturday. The bus that was scheduled to set off for Rajshahi at10:00am, started the journey six hours later for traffic jam.
Reaching Rajshahi around 12:30pm yesterday, she could take the tests held afterwards.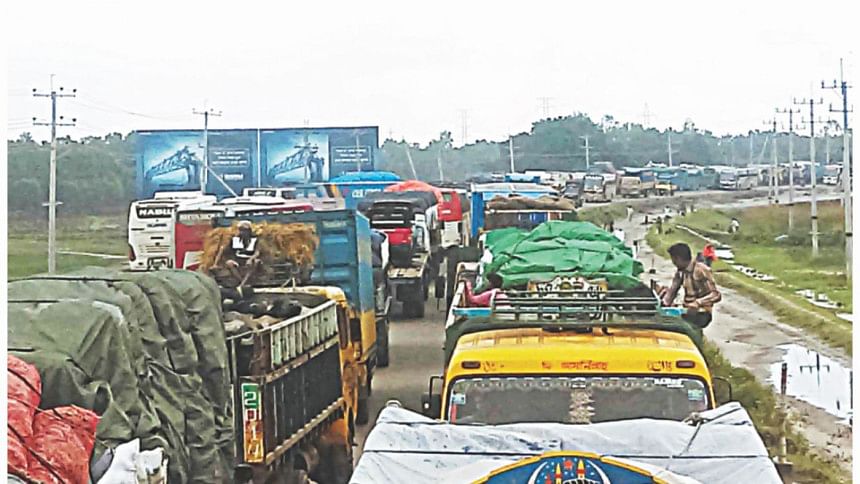 Shimu was still luckier than hundred others from eastern parts of the country, who failed to take any of the RU admission tests for traffic jam.
Many applicants and their relatives said they made a journey of 17 or more hours on the route.  Many students took another route through Nagarbari ferryghat, but that too took nearly ten hours.
The RU dean for social science faculty, Prof M Faizar Rahman said 84.18 percent applicants took the three admission tests held before 1:30pm yesterday. 
RU teachers and officials claimed that nearly ten percent of the applicants could not take the tests, citing 95 percent attendance in the previous years.
However, the RU Pro VC said many of those who had not sat for the tests secured places in medical colleges and other major universities. At the same time he admitted that at least a few hundred students could not attend the tests for traffic jam.
The attendance in two tests of the arts faculty could not be known immediately.
Transport managers said around a hundred students returned their tickets as they cancelled trips for traffic jam.
Our Tangail correspondent Mirza Shakil, Rajshahi correspondent Anwar Ali Himu and Rajshahi university correspondent Arafat Rahman contributed to the report.