A novel trick to lift cattle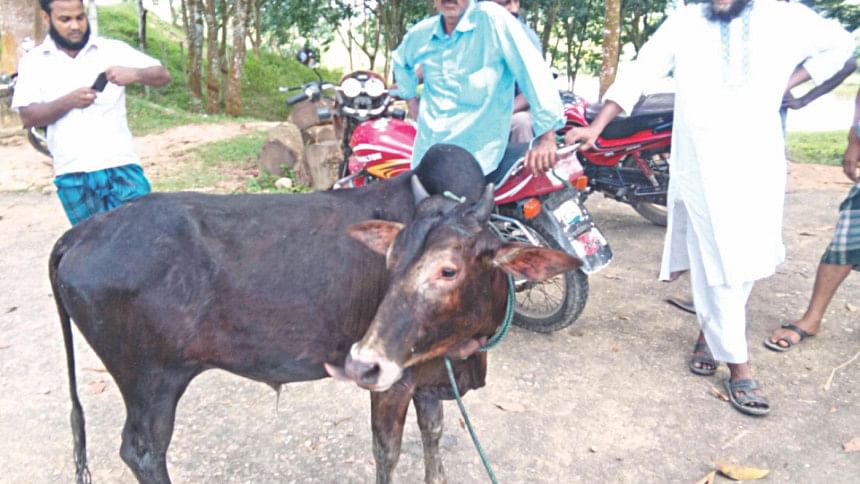 Cattle rustlers in bordering upazilas of the district are resorting to innovative means for selling the stolen cattle.
Ahead of the Eid-ul-Azha these criminals are changing the skin colour of stolen animals, in a sense, giving makeovers to them.  
They use hair dye, mehendi and various other colouring agents to turn a white or a red cow into black ones overnight, locals said.
Finally, they shampoo and brush the animal to give it a vibrant and healthy look so they can sell it the next day in a hurry, before the original owner of the animal is able to track down and identify it in the local cattle market, they added.  
On August 12, Nazrul Islam of Lalarchak village under Kulaura upazila lost his cow, a red one, to the thieves.
After five days' vigorous search, he found the cow near bordering area of Sharifpur, only to notice its colour had been changed to black, Nazrul told this correspondent. 
Border Guard Bangladesh (BGB) on August 11 confiscated a total of 12 stolen cattle and five of the animals' original skin colours were found to have been tampered with, said Rafiqul Islam, BGB commander of Chatlapur check post under 46 battalion in Kulaura upazila.  
Those five cows could not be returned to their owners as their owners could not identify them, he added.
Shamsuduha, officer-in-charge of Kulaura Police Station, said on August 14 they retrieved two cows with tampered skin colour and handed them over to the owners with the help of one of their informants who received details of the cattle after the theft.
Mohammad Akram from Namoja village near Sharifpur border area said, "Two of my cows were stolen within one month's time."
The rustlers usually operate at night time, but lately they have been stealing cattle grazing in the field in broad day light, locals said.
Junab Ali, chairman of Sharifpur union in Kulaura upazila, said even though a few of the stolen cattle have been identified and returned to their owners, the theft continues unabated. 
The theft is rampant mostly in Kulaura, Kamalganj, Rajnagar, Juri and surrounding upazilas of Moulvibazar, having borders with India and nearly a hundred cattle have been stolen from this region over the last month.
Police, having inadequate personnel, are trying to prevent the alarming increase in cattle theft by setting up more check posts and patrolling the area, the OC of Kulaura Police Station said.
Mohammad Shahjalal, superintendent of police in Moulvibazar, said police are working relentlessly to bring an end to the crime.