Vast area lost to the Padma
The river has devoured 50 homesteads, five schools and a health complex in Madaripur's Shibrampur upazila for last five days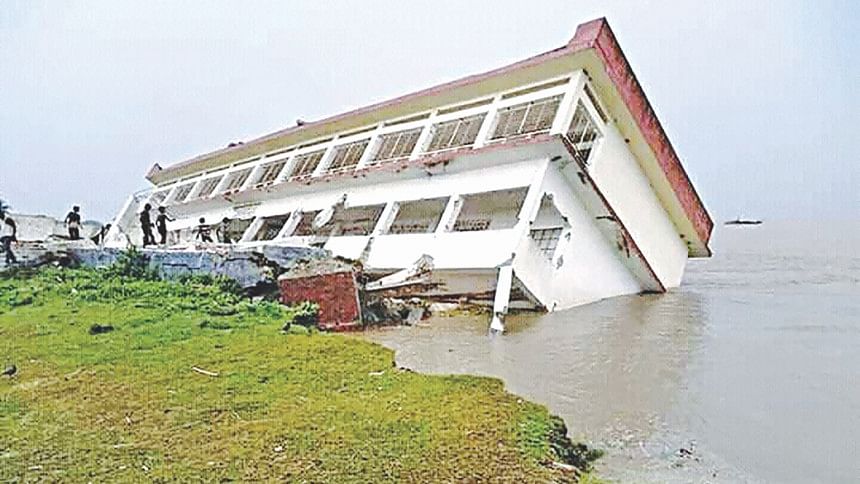 At least 50 homesteads, five educational institutions, one union health complex building and one union parishad building have been devoured in Madaripur's Shibrampur upazila since Monday.
The water level of the Padma suddenly rose on Monday noon and affected Kathalbari point, Bandarkhola point, Char Janajat and its surrounding areas, said locals.
Partha Protim Saha, executive engineer of Madaripur Water Development Board, said "We have already dumped around 58,000 sandbags at Kathalbari point and 9,000 more at Bandarkhola point to prevent erosion."
Asked if there was any permanent solution to the issue, he said, "It is not possible to build permanent dams in those areas as that would pose a serious risk to the under-construction Padma Bridge.
"The authorities may build permanent dams after consulting with the engineers of the Padma Bridge later."
Many locals in the area shifted to their relatives' houses fearing that their homes would soon be demolished by the erosion.
Nur Matbar, of Char Janajat area who recently shifted his family to a relative's house, said around 200 families left their homes in five days.
Akkas Ali, headmaster of Magurakhanda Government Primary School, said the only building of the school was washed away by the erosion.
"We have over 760 students in the school and I do not know how to continue classes. We may shift our school to a new place very soon," he said.
Shibchar Education Officer Rafiqul Islam said they would take every necessary step to ensure education to the students in the area.
In August, another such situation occurred in the union and devoured one madrasa, two bridges, three canals, 300 homesteads and around 100-acre of cultivable land.