TV Interview: Rayhan not charged by Malaysia police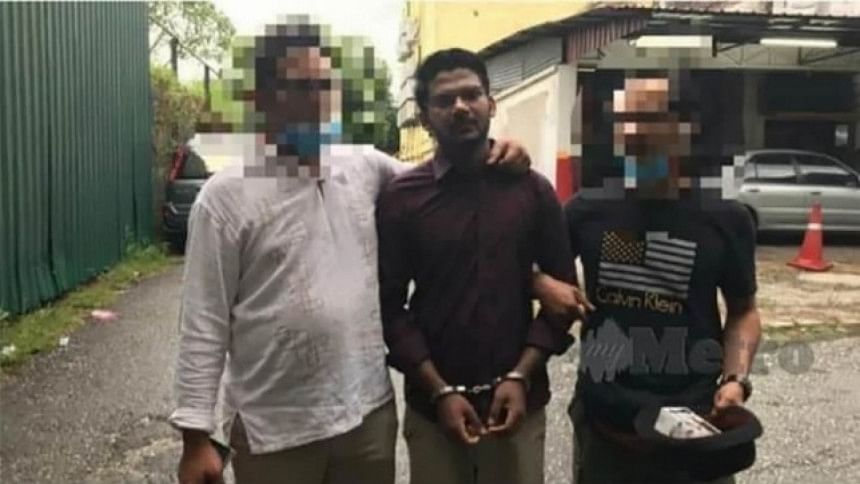 Malaysian police did not bring any charge against the young Bangladeshi Rayhan Kabir who was arrested in Malaysia and he will be sent back to Bangladesh soon.
Rayhan's lawyers in Malaysia Sumita Santini Kisna and Selvaraja Chinniah communicated the developments to The Daily Star yesterday.
Malaysian court granted a 13-day remand for Rayhan, which ended Tuesday. Sumita Santini Kisna said, "There are no charges filed against our client. He will be deported as soon as his Covid-19 test is done and flight ticket is ready. Before that he would be kept at Putrajaya Immigration Centre and from here will be sent straight to the airport".
Malaysian Immigration Director-General Datuk Khairul Dzaimee Daud already said Rayhan will never step foot in Malaysia again as he will be blacklisted.
On July 3, Al Jazeera published an investigative documentary titled "Locked Up in Malaysia's Lockdown". It raised the issue of the government's repressive treatment of migrant workers in Malaysia during the lockdown. In the documentary, along with the citizens of many other countries, Rayhan also gave an interview, which angered the Malaysian authorities.
An arrest warrant was issued against Rayhan Kabir. He was arrested by Malaysian police on the evening of July 24.
Before arrest, Rayhan Kabir sent a WhatsApp message where he said, "I did not commit any crime. I did not lie. I have only talked about discrimination against the migrants. I want the dignity of migrants and my country ensured. I believe all migrants and Bangladesh will stand with me".
Even during interrogation, Rayhan told the Immigration Police that he spoke about what he had seen and that was his own observation. But he did not want to hurt Malaysians.
Different international and Bangladeshi organisations, including Human Rights Watch and Amnesty International, have condemned the arrest and demanded Rayhan's immediate release.
Malaysian rights group Lawyers for Liberty said they had scrutinised the statement made by Rayhan in the documentary and firmly restate that he has not said anything even remotely in breach of the country's laws.
Rayhan Kabir's family of four lives in Bandar upazila of Narayanganj. After getting the news of nor charge against Rayhan Kabir his father Shah Alam said, "I have repeatedly said that my son has protested injustice all his life. But he himself has never done wrong. We are very happy that there is no charge against him. We are waiting for our Raihan to come to us. The day our son comes to us will be our Eid".
The writer is a freelance journalist