Taking care of the neglected
Alokito Shishu delivering food, groceries to transgender, Bede, Harijan communities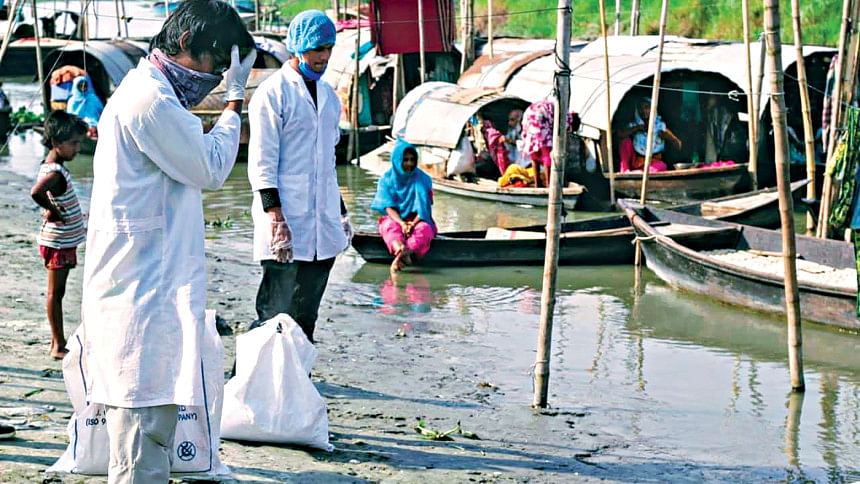 "This virus has affected everyone -- it did not even show any compassion for those already considered excluded, marginalised, and invisible."
Kanta (not her real name), a transgender person from Dhaka, said this while talking about the hardship the community is facing amid the countrywide shutdown enforced to combat the coronavirus outbreak.
For their livelihoods, many in their community either collect alms from roadside shops and on the streets or work in the sex trade.
Since the first day of the shutdown, they, like many others, have become jobless. On top of this, no one from the authorities came forward to help them in this time of need, Kanta said.
In this dire situation, several young members of a charity, however, appeared at their colony in Jatrabari area earlier this month, bringing groceries and other essential items. Those included rice, lentil, salt, flour, onion, potato, oil, puffed rice, soap, saline, and basic medicine.
Gift for Good, an initiative of Alokito Shishu, aims to support the families of underprivileged minority communities such as the transgender, Bede (river gypsies), and Harijan (also known as sweepers and cleaners) communities during the ongoing shutdown.
Alokito Shishu, a non-profit organisation, began its journey in 2015 with the aim of providing basic education to the children of Bede and Harijan communities, said its CEO Mithun Das Kabbo.
It now runs two schools in the Bede and Harijan pallis of Munshiganj's Sirajdikhan upazila and Natore municipality.
It has so far supported around 4,000 transgender, Bede, Harijan, tribal, differently-abled persons, fishermen and labourers' families in 13 districts, including Nilphamari, Natore, Munshiganj, Cox's Bazar, Bhola, and Barishal, during this time. In Dhaka, it provided cooked meals to more than 2,000 rickshaw pullers.
Gift for Good is running with the financial assistance from non-profits and organisations such as ASA, Hope for Bangladesh, and Food Bank Network Bangladesh, and local youth organisations, Mithun said.
Around 200 local volunteers in the 13 districts have been working to provide support for these communities since March 15, he added.
The volunteers wear personal protective equipment and maintain physical distancing during relief distribution. Alongside food, they also provide hand sanitisers and masks to the vulnerable groups.
"To continue providing support for families in this crisis, we regularly raise awareness about our work and campaign on social media to raise funds," he said.
A member of the Harijan community in Natore municipality said the relief supplies they received from the local administration were inadequate. So, such support from volunteer organisations came as a welcome relief for them.
Tashnuva Anan Shishir, a member of Gift for Good and a transgender rights activist, said many transgender persons of various brothels in Jashore and Mongla are crying out for help during this time. However, the initiative is unable to reach out to them due to a lack of funds.
Mithun added that they would soon also provide floating sex workers with food staples, if able to raise sufficient funds.