Councillor Sayeed removed
'Missing meetings' cited as reason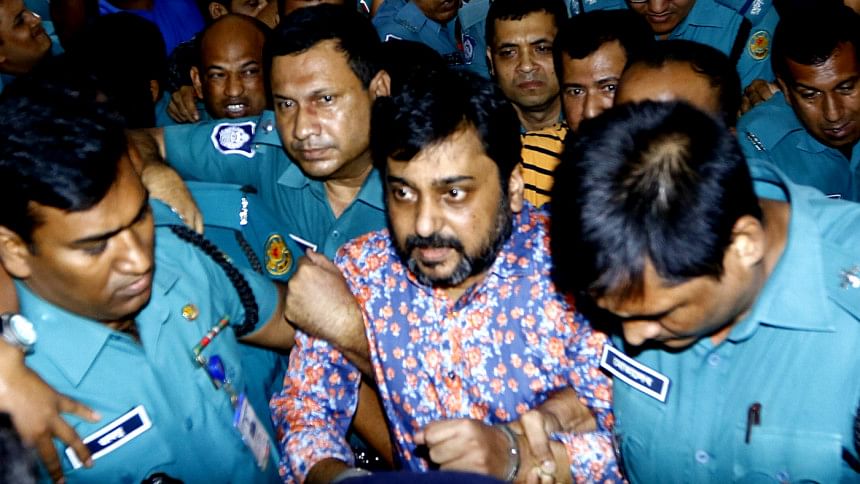 The government yesterday removed ward councillor AKM Mominul Haque Sayeed of Dhaka South City Corporation for being "absent in meetings and staying abroad without permission".
Issuing an order in this regard, the local government ministry said the councillor of ward-9 was removed as allegations against him were proved.
The move came weeks after reports surfaced that Sayeed was involved in illegal casino business in the capital.
Sayeed is also the president of Arambagh Krira Sangha and joint general secretary of the Dhaka South Jubo League.
He reportedly fled the country last month after the law enforcers launched a crackdown on illegal gambling, extortion and tender manipulation.
Jubo League, the youth front of the ruling Awami League, hit the headlines about a month ago after law enforcers arrested some of its top leaders in connection with running casinos in the capital.
Law enforcers picked up several other people over illegal gambling, extortion and contract-grabbing, especially by some leaders of the ruling party and its associated bodies.
Jubo League has expelled its Dhaka south unit President Ismail Hossain Chowdhury Samrat, Vice President Enamul Hoque Arman and Organising Secretary Khaled Mahmud Bhuiyan over their alleged links to casino business.
During the crackdown, the Rab and police raided casinos in the capital's Fakirapool and Motijheel areas. Law enforcers found gambling equipment at Arambagh club.
RAB TAKES SAMRAT IN CUSTODY
The Rab took casino business "kingpin" Ismail Hossain Chowdhury Samrat and one of his aides into custody for interrogation yesterday, a day after it was given the charge to probe two cases filed against them.
Samrat is accused in an arms case and a narcotics case, while his aide Enamul Haque Arman is an accused in the latter.
On Tuesday, a Dhaka court placed Samrat on 10-day remand and Arman on five-day remand. The two had been kept at the office of the Detective Branch of Dhaka Metropolitan Police until Wednesday when the home ministry transferred the investigation to Rab.
"Samrat was brought to the custody of Rab-1 around 4:00pm [yesterday]," said Mizanur Rahman Bhuiyan, senior assistant director of Rab's legal and media wing.
Samrat was the former president of Dhaka South Jubo League and Amran the former vice president of the unit. Both were expelled from the organisation after their arrest.
On October 6, Rab detained the two at a house in Cumilla, near Indian border.
In the case statements, Rab said Samrat used to lead a large gang, who would often torture those refusing to pay extortion money or opposing him. He amassed a huge amount of money through illegal casino business, tender grabbing, and extortion.