Death of Apprentice Lawyer: Police refuse to record case against DB men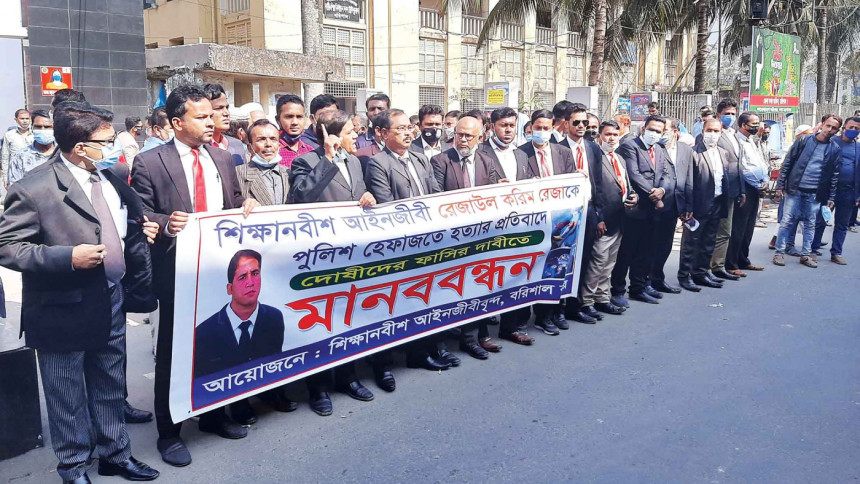 Relatives of apprentice lawyer Rejaul Karim Reja, who died in a prison cell of a Barishal hospital, yesterday alleged that Kotwali police did not record a murder case against three members of Detective Brach of police.
A DB team detained Rejaul at a tea stall near his home on Barishal city's Hamid Khan Sarak around 8:00pm on December 29 when he was having tea, said his brother-in-law Abdul Barek Hawlader.
The DB that night filed a drugs case against the 30-year-old apprentice lawyer with Kotwali Police Station and handed him over to police, he added.
A local court sent him to jail the following day.
On January 1, he was admitted to Sher-e-Bangla Medical College Hospital. He passed away on Saturday night.
Yesterday, Barishal Metropolitan Police Commissioner Md Shahabuddin Khan asked Rejaul's father, wife and Barek to meet him at his office.
The three met the BMP commissioner around noon. The commissioner listened to them separately and asked them to talk to the Kotwali OC over filing a murder case in this regard.
Barek said Kotwali OC Nurul Islam refused to record the case arguing that he could not do so as the apprentice lawyer passed away in the hospital's prison cell.
Rejaul's family was preparing the draft of a case to be filed with a local court today in this regard.
DB Sub-Inspector Mohiuddin Mahi and two other members of DB would be accused in the case, Barek added.
Rejaul told his wife at the hospital that he was brutally tortured by Mohiuddin, said family members.
Despite repeated attempts, this correspondent could not reach the BMP commissioner, the deputy commissioner (DB), the Kotwali OC and SI Mohiuddin over the phone for comments.
Earlier, BMP Deputy Commissioner Md Manzur Hossain denied the allegation of Rezaul being tortured.
DEMONSTRATION
Lawyers and apprentice lawyers yesterday formed a human chain on Fazlul Haque Avenue in Barishal city around noon protesting Rezaul's death in jail custody.
Former general secretaries of Barisal District Bar Association Mohsin Montu and Abul Kalam Azad spoke at the programme, among others.
The protesters said Rezaul was a very bright student. He wanted to take over the responsibility of his hard-up family, but he was "killed" after being picked up by the DB police.
They demanded trial of SI Mohiuddin over the alleged murder. They also warned of announcing tougher agitation programmes if their demand was not met.