Pakistan army kills many in Rangpur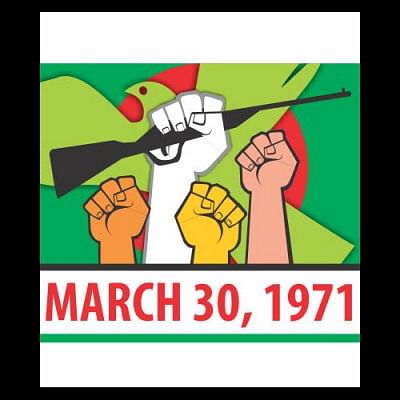 On this day in 1971, the ruthless Pakistan army opened fire in the in the surrounding areas of Rangpur Cantonment, killing many innocent civilians.
Besides, scores of houses were set to fire in those areas and many people were tortured by the Pakistan military men.
On behalf of Bangabandhu Sheikh Mujibur Rahman, Swadhin Bangla Betar Kendro broadcasted a programme urging the democratic governments across the world to come forward and help the Bangladeshis.
At night, the Pakistan Air Force bombarded the radio station based in Chattogram's Kalurghat. The entire port city was encircled by the Pakistani occupation forces from all sides.
In the evening, freedom fighters took hold of the Kushtia Police line under the command of Matin Patwari.
Major Zia explains and hands over command of Kalurghat to Captain Ali.
At Dhaka University's Ruqayyah Hall, six undressed female bodies were found dangling from ceiling fans. Apparently, the girls were raped and shot before being hung.
The military also burned down a number of houses in Old Dhaka. Most of the houses belong to Hindu families. A large number of prisoners were taken to the East Pakistan Rifles base.
Jyotirmoy Guhathakurta, a Bangalee educator and humanist, who got shot on March 25, succumbed to his wounds at the Dhaka Medical College and Hospital on this very day in 1971.
Archer Blood reported an American's observation of the atrocities committed at Dhaka University. The observer indicated that the students had been "shot down in rooms or mowed down when they came out of buildings in groups." In one instance, the martial law administration set a girls dormitory on fire and then the girls were "machine-gunned as they fled the building."
The month that ignited the fire of freedom was about to end, but the war had only begun.
[Source: Liberation War Museum, The Daily Star archive, and Bangladesh Genocide Archive.]