Lobby to make Myanmar safe for Rohingyas
Foreign minister asks consul generals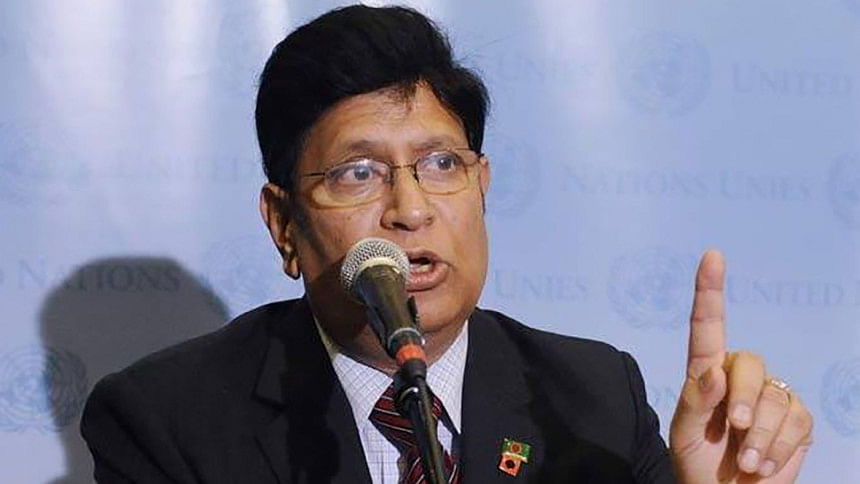 Foreign Minister Dr AK Abdul Momen has requested consul generals to engage foreign governments and civil societies to help create a safe environment for Rohingyas in Myanmar and oversee the process of repatriating Rohingya refugees from Bangladesh.
He made the request in a letter which was sent to consul generals of Bangladesh in different countries and those of foreign countries in Bangladesh on June 9.
The letter was sent to around 80 consul generals in total, a foreign ministry official said.
In it, Momen said Bangladesh does not have the capacity to indefinitely host over a million Rohingya refugees, including some 750,000 who fled military crackdown since August 2017 in Rakhine state of Myanmar where they have been denied citizenship and basic rights for decades.
"The delay of repatriation of Rohingyas, who have been deprived of basic rights for decades, may threaten regional security and stability," he wrote in the letter, according to a statement from the foreign ministry issued yesterday. 
Bangladesh is sincerely trying to find a sustainable solution to the Rohingya crisis bilaterally, as they had fled from waves of violence which put serious pressure on Bangladesh, he said. It has signed three deals since 1978 for repatriation of the Rohingya refugees with the latest signed in November 2017.
"Yet, Rohingya repatriation in a safe, dignified and voluntary manner remains uncertain because of Myanmar's sheer lack of interest and failure in creating conducive conditions in Rakhine," Momen further wrote in the letter.
Bangladesh expects an active role from the international community in this regard because the country has sheltered refugees under humanitarian grounds despite various challenges.
In September that year, the United Nation's Independent Fact Finding Mission in its report said the Myanmar army must be held accountable for allegations of genocide.
The UN Security Council has not referred the situation of Myanmar to the International Criminal Court mainly because of opposition from its permanent members China and Russia.
Bangladesh, meanwhile, faces huge financial, environmental and diplomatic challenges for the presence of 1.1 million Rohingyas in Cox's Bazar.