Indomitable: Faridpur man bounces back even after losing both arms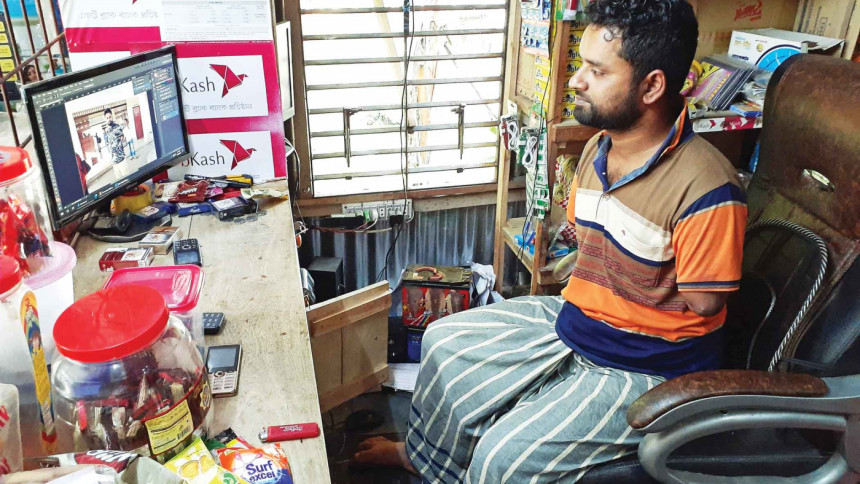 Even after losing both his arms in an accident, Kamrul Sheikh, 34, used the sheer power of will and determination to bounce back and change his own fate.
A resident of Faridpur's Sadar upazila, Kamrul is married with two children – a son and a daughter.
From a poverty-stricken family, he was only able to complete primary education, after which he began working to support his family. He would sometimes worker as a carpenter, sometimes a rickshaw-puller, an electrician, or a day-labourer.
On August 15, 2018, while working as an electrician at the district's Khaleq Bazar area, Kamrul was electrocuted and lost both his arms in the accident.
"I climbed up an electric pole and set my ladder near the electric wires. I was repairing a faulty line. That is about as much as I can remember. When I regained my senses, I found myself on a hospital bed," said Kamrul.
From a local hospital, he was shifted to the burn unit of Dhaka Medical College and Hospital (DMCH), where he underwent treatment for around a month and half.
"Both my arms were badly damaged. They had to be amputated within three days of my admission [to DMCH]," Kamrul said.
"After the accident, my entire family was in financial trouble. The West Zone Power Distribution Company gave me Tk 2 lakh as compensation. I bought four rickshaws with that money and rented them out.
"But the income was not sufficient and I was getting worried. One day, a friend of mine, Lutfar Khalasi, suggested that I meet a man named Jashim, who, like me, does not have either of his arms but runs a shop himself."
Kamrul met Jashim and learned some techniques to work. "I sold my four rickshaws and opened up a grocery shop -- Zihad Varieties Store -- in front of my house."
"Many of my friends, relatives and neighbours discouraged me about opening the shop. But I was determined. Now, I am running my shop efficiently. I have even learned to swim, cycle, operate computers and mobile phones using just my legs," he said.
Kamrul's wife Julia Begum was happy with his husband's decision and determination. "We were all very uncertain [regarding finances] after the accident. But his courage, willpower and hard work changed all of that."