Hilsa catching on despite ban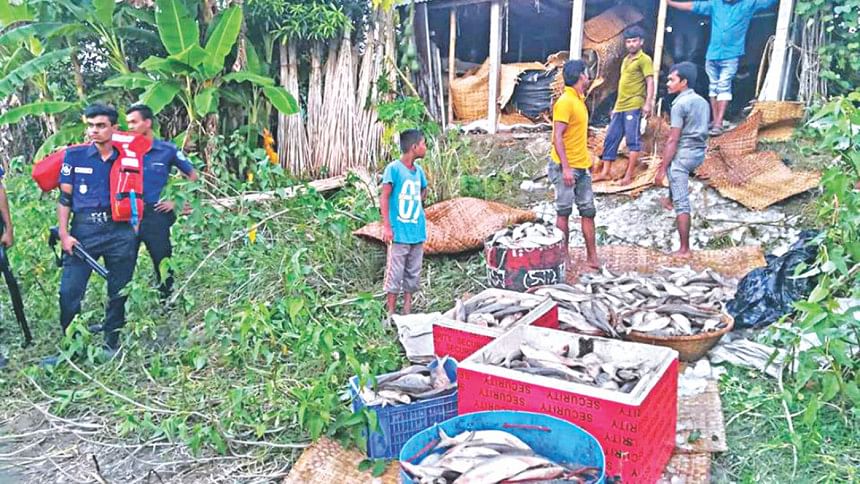 Fishermen are catching hilsa in the Padma and the Jamuna rivers in Manikganj defying a government ban.
During visits to some char areas, it was found that the fish was being sold in the open at a low price apparently through "hilsa fairs".
A buyer, who came to Alokdia Char of Shibaloy upazila, said normally hilsha sells at Tk 800 to Tk 1,200 per kg, but yesterday the price came down to Tk 200-250 per kg.
Fishermen of Harirampur, Shibaloy and Daulatpur upazilas said they had taken loans to buy boats and net and are bound to pay instalments every week.
They claimed that they have no alternative to catching hilsa to repay the loans.
They also said they did not get any help from the government during the ban.
"I do not want to catch the fish. But when I saw other fishermen catching hilsa and making a lot of money, I also joined them," said a fisherman seeking anonymity.
Contacted, Shibalaya Upazila Fisheries Officer Rafiqul Alam said, "We are conducting raids in different parts of the rivers every day to protect the mother hilsa. But without creating awareness among the fishermen, it is really difficult to stop them."
The district fisheries officer said about 189 raids were conducted between October 7 and October 23 in the district. During the drives, 280 people were jailed, 74 others fined and 1.9 tonnes of hilsa was recovered through 76 mobile courts.
Deputy Commissioner SM Ferdous said the district administration was conducting mobile courts and trying to create awareness among the fishermen about protection of mother hilsa.
The government has banned catching hilsha from October 7 to October 28 to protect hilsa, which is a national resource.