Flood ravages North for 4th time this year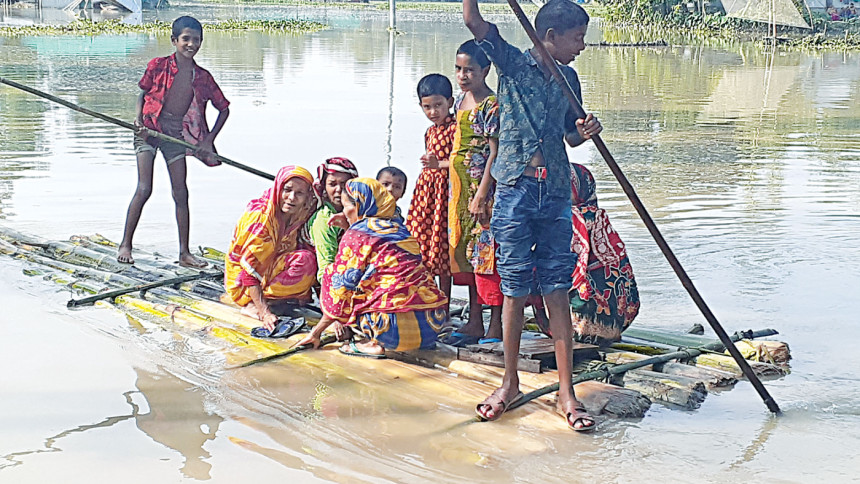 Many areas in the country's northern region have again been submerged by flash flood due to incessant rain and the onrushing water from the upstream.
The flood victims are suffering immensely as they could yet recover their losses caused by floods in previous phases.
With this, flash floods have ravaged the areas four times this year.
In Lalmonirhat and Kurigram, around 3,00,00 families have been waterlogged on the Teesta and Dharla basins.
Some families have left their homes and taken shelter on roads and embankments.
Floodwater has also washed away cattle and furniture of some flood-hit families. Aman paddy and vegetable fields on vast areas of land are now under water.
The flood victims in the char areas are in dire need of food and drinking water.
"My crops had been damaged by flood. Then I took loan to grow crops to recover my losses. But my crops have again been flooded," said Mubarak Hossain, a farmer of Shimulbari village in Kurigram's Phulbari upazila.
According to officials in Lalmonirhat and Kurigram, Dharla has been flowing 39cm above the danger level since Thursday night due to the onrushing water from the upstream.
In Sirajganj, water level of the Jamuna has increased as it has constantly been raining for the last couple of days at Chowhali, Enayetpur and Kazipur upazilas. 
River erosion has taken a serious turn in these areas, said locals.
Many houses have already been inundated, while several hundred houses and many institutions are still facing threats of flooding and erosion.
"Erosion devoured my and some other houses in the last few days," said Yeasin Pramanik, of Pukurtola village in Chowhali.
In Thakurgaon and Panchagarh, around 1,500 families have been waterlogged as some 20 villages are flooded.
Many mud houses also collapsed.
"Floodwater entered my house last night for the fourth time this year," said Adam Ali, of DC Slum area in Thakurgaon town.
A huge area of land in Bogura has been submerged as the Jamuna was flowing 3cm above the danger mark yesterday.
Sultan Ahmed, a farmer of Char Batiya, said, "Flood struck us for four times this year. I have six bighas of paddy that has been flooded in the last two days. If the paddy is damaged, I have to suffer in the winter for the shortage of rice."
Abdul Halim, agricultural officer of Sariakandi upazila, said, "In the last two-three days, water of the Jamuna inundated over 277 hectares of crops, including 250 hectares of Aman paddy, in the upazila."
In Gaibandha, the Teesta was flowing 22cm below the danger level and the Brahmaputra 22cm below the danger level, while the Korotoa and Ghaghot rivers were flowing 23cm and 16cm below the danger mark respectively as of 6.00am yesterday, said Water Development Board (WDB) officials.
Mokhlesur Rahman, executive engineer of Gaibandha WDB, said, "Water will increase the next two days, but there is no possibility of a devastating flood this time."
Fourth spell of flood hit Dimla and Jaldhaka upazilas of Nilphamari as the Teesta started swelling again, inundating vast areas of its basin and leaving thousands of people in 20 char areas waterlogged.
Shahidul Islam, a flood victim of Kisamoter char, lamented saying that they had just returned to their damaged houses from makeshift shelters at the end of last month.
He said as flood struck them again, they had to leave houses to take shelter elsewhere.
[Our correspondents in Lalmonirhat, Bogura, Thakurgaon, Pabna and Nilphamari contributed to this report]