Fake Covid Reports" Clinic sealed off in Pabna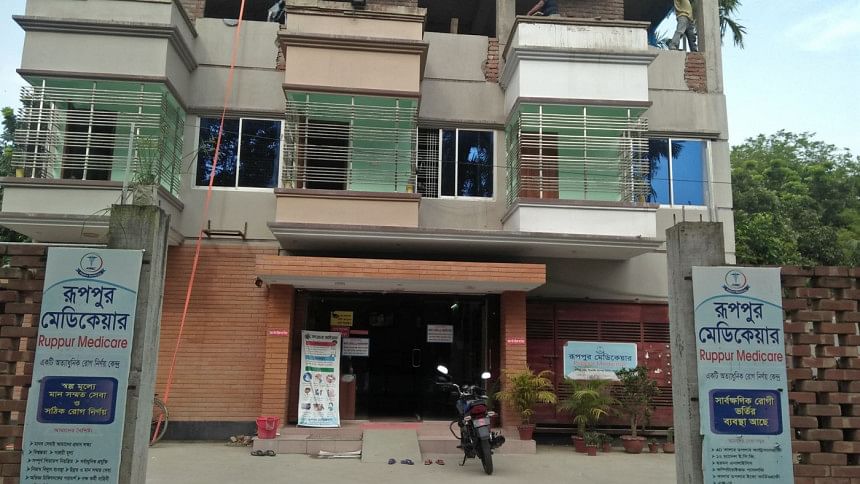 Rooppur Medicare, a private hospital in Pabna's Ishwardi, was sealed off on charges of issuing fake Covid-19 certificates yesterday, a week after arresting its owner.
On July 8, police raided the clinic, recovered several fake test reports, and arrested its owner Abdul Wahab Rana.
The clinic had no permission from the health department to do such tests.
A case was filed against Wahab, his partners Sujon Ahmed, and Dr Abu Sayed, chairman of Brahmanbaria Medical College, a private hospital, for running coronavirus tests at the unauthorised clinic.
"Rooppur Medicare have collected samples of workers of different sub-contracting firms of Rooppur Nuclear Power Plant without any legal permission. Without having the health department's approval, they were running the Covid-19 tests through Brahmanbaria Medical College Hospital," said Dr Asma Khan, Ishwardi upazila health officer.
After the law enforcers' drive, the clinic authorities did not stop its operations.
Yesterday, officials of Ishwardi upazila health department, along with the law enforcers, sealed off the clinic, she said.
Rooppur Medicare was running the tests illegally to make a quick buck, said Sheikh Nasir Uddin, officer-in-charge of Ishwardi Police Station.
The OC said they arrested the clinic owner and sent information of the other accused to the police stations concerned for taking actions.