Deluge forces many to live on boats, roads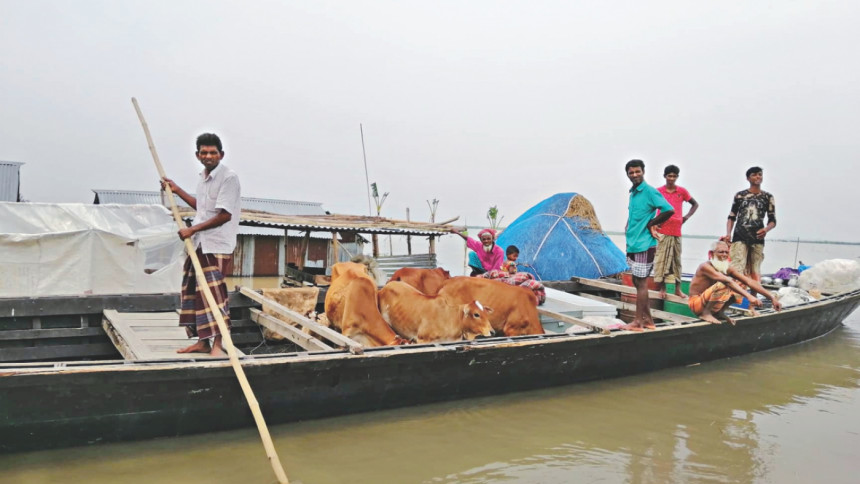 Along with his four family members and some cattle, 75-year-old Kazim Uddin had to spend the past two days on a small boat as their home was flooded.
"We have no food left. We are worried about how we will survive the coming days," Kazim Uddin told The Daily Star, on his boat at Vangorgacha Char area in Bogura's Sariakandi upazila yesterday.
"We need food and other essentials. We need to go to a safe place. We urge the government to help us survive," he said. Like Kazim, thousands of flood-affected people are desperately looking for safe shelters and food for their survival.
Some 11 lakh people of eight districts are still marooned due to the flood, reports our correspondents.
In Bogura, some 57,000 people of around 100 villages in Sariakandi and Sonatola upazilas are marooned.
The correspondent yesterday visited three Char areas in Chaluabari, Karnibari and Kazla of Sarikandi upazilas and found thousands of flood-affected people trapped due to the water. People were seen living on boats.
"We are going towards the Jamuna dyke. It is not possible for us to survive anymore on boats," said Md Habizar, a resident on the Chakratinath Char area in Sariakandi upazila.
Water from the Jamuna river was flowing 41cm above the danger level, according to the district's Water Development Board (WDB).
see page 5 col 5Many educational institutions in Bogura have already been closed.
Contacted, the district's Additional Deputy Commissioner Rayhana Islam said they had taken "all-out preparations" to tackle the flood.
In Mymensingh, around 40 villages in Dhobaura upazila have been inundated due to heavy rainfall and an onrush of water from the Netai and Kongso rivers.
Some 1,200 people of the upazila's five unions were marooned due to floods, according to the local administration.
The administration was distributing dry food and other essentials to the victims of flood.
Four shelters have been kept ready, in case the situation worsens, said Rafiquzzaman, upazila nirbahi officer (UNO) of Dhobaura.
In Netrokona, flood in different areas of Durgapur and Kalmakanda upazilas worsened yesterday. Some, 80,000 people of the two upazilas are directly affected, according to a rough estimate by locals and administration.
The Kongso river was flowing 100cm above danger level at the Durgapur point, while Updakhali river is flowing 14cm above danger level at Kalmakanda, according to the district's WDB.
In Kurigram, over two lakh people of nine upazilas are facing waterlogging due to flood till yesterday, according to sources at district's relief and rehabilitation office.
The Dharla, Brahmaputra, Teesta and Dudhkumar rivers were respectively flowing 83 cm above danger level at the Dharla Bridge point, 78cm at the Chilmari Ghat point and 41cm at the Noonkhawa point yesterday, according to the WDB office in the district.
Many people have taken shelter on the roads for survival.
"My family and I took shelter on the road on Saturday, after floodwater began seeping into my house. We are eating only jackfruit as there is no dry fuel-wood for cooking. I have not gotten any help yet," said Mohir Uddin, 53, a resident of Sadar upazila's Pachgachi union.
Around 14.8 kilometres of the flood protection embankments in the district have been damaged due to onrush of water.
In Lalmonirhat, over one lakh people of around 80 villages have been marooned and are facing a crisis of drinking water, food and other essentials. 
Ali Haider, relief and rehabilitation officer in the district, told The Daily Star that around 110 metric tons of rice, 6,000 packets of dry food items and cash incentives amounting to Tk two lakhs have already been distributed among the flood-affected people.
However, many people are still claiming that they did not get any help from the government.
"We have taken shelter on the road where we have been living in inhuman conditions, but we didn't get any relief assistance from the government," said Nabir Uddin, 63, a farmer at Gaddimari village in Hatibandha upazila.
In Gaibandha, around 5,000 people of different areas in the district are directly affected by flood.
The Brahmaputra river was flowing 83cm, Teesta 22cm and Ghagot 54cm above their danger marks, according to the district's WDB office.
In Chattogram, around five lakh people have been marooned in Fatikchari, Chandanaish, Satkania and Anwara upazilas.
In Bandarban, the Sangu river was flowing around 3cm above its danger level.
In the last 24 hours, around 214mm rainfall was recorded there.
Prime Minister Sheikh Hasina, while inaugurating the 5-day DC conference-2019 at the PMO, yesterday asked all deputy commissioners to remain alert to tackle the flood, reports UNB.
The shipping ministry yesterday opened a control to monitor the flood and to collect information on vessel movement. It also introduced a hotline number -- 02-9515551.
The water resources ministry on July 12 opened a flood control room at the Secretariat and provided a hotline number -- 02-9570028, reports UNB. 
Meanwhile, the Roads and Highways Division (RHD) yesterday issued a six-point directive for the grassroot level officials to ensure uninterrupted road communication during the flood.
The directives include setting up control rooms at each of its 22 circle and 65 divisional offices, formation of emergency teams, keeping all necessary equipment available, and ensuring proper monitoring during emergencies.
RHD's Chief Engineer Ebne Alam Hasan signed the directive.
(Our correspondent from Bogura, Mymensingh, Kurigram, Lalmonirhat, Gaibandha, Chattogram and Bandarban contributed to the report.)