Defaming A Journo: Mainul out of jail on bail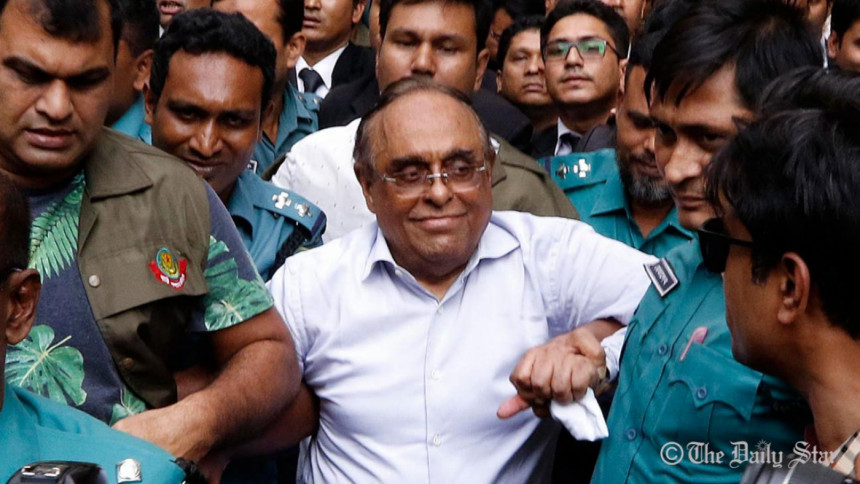 Former caretaker government adviser Barrister Mainul Hosein yesterday walked out of jail on bail four days after a Dhaka court sent him to jail in a case filed by journalist Masuda Bhatti for defaming her in October last year.
Mainul was released from the Keraniganj Central Jail around 4:00pm after receiving a release order from the court, Senior Jail Super Iqbal Kabir Chowdhury confirmed The Daily Star.
Earlier in the day, Dhaka Metropolitan Magistrate Mohammad Tofazzal Hossain had granted him bail considering his age and physical condition after Mainul's lawyer Golam Mostafa Khan submitted a petition seeking bail.
During the hearing, Golam Mostafa said Mainul fell sick after he was sent to jail and he needed to be admitted to a hospital.
Earlier on September 4, Mainul, 80, was sent to jail after he surrendered before the court and sought bail in the case.
On October 16 last year, Mainul hurled abusive words at Masuda and called her "a person of loose moral" during a live talk show at a private television channel.
Following the incident, Masuda on October 21 filed a case with the Court of Additional Chief Metropolitan Magistrate Muhammad Asaduzzaman Noor in Dhaka.
On October 23, the Detective Branch of police arrested Mainul from the capital's Uttara. The next day, a Dhaka court sent him to jail after detectives produced him before it.
As many as 23 cases were lodged against him across the country over the incident. On January 13, the HC granted him ad-interim bail for six months in 11 cases.
It also stayed the trial proceedings of 15 defamation cases for the next six months and issued separate rules asking the government to explain why the case proceedings against him should not be stopped.
On January 27, Mainul was released on bail after he had spent three months in jail.