Covid in Cumilla: 10-bed ICU only hope for 6 dists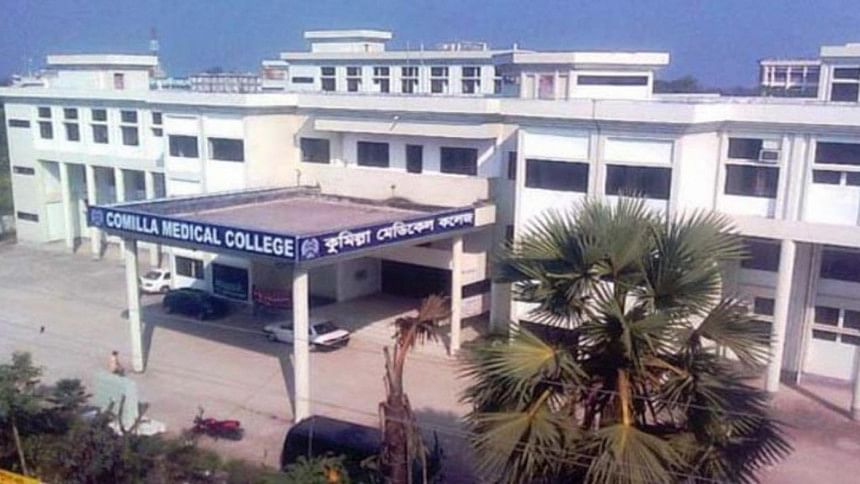 Sixty-five-year-old Monirul Sarker was admitted to Cumilla Medical College Hospital's isolation unit with breathing problems around 9:00pm on Monday.
His physical condition continued to deteriorate as his blood oxygen saturation level kept falling. Monirul needed to be shifted to the intensive care unit -- but no ICU bed was vacant at the hospital.
Monirul's relatives tried to arrange for an ICU bed at several private hospitals in the city but ultimately failed.
An ICU bed at the medical college hospital finally fell vacant around 3:30am on Tuesday and Monirul was being prepared to be shifted there.
Before he could, however, he breathed his last. It was a long way and quite some time since leaving his home in Debidwer upazila.
This is an all too common story these days, even in the cities, but especially in district towns and rural areas.
Like Monirul, other Covid-19 patients in critical condition face this situation as they are rushed from hospital to hospital or are left without help as their condition deteriorates while their families desperately try to find available ICU facilities in the city.
The situation is worsened as some private hospitals are refusing to admit patients with respiratory problems, leading to most critical patients ending up at ill-equipped public facilities.
There are no ICU facilities at government hospitals in Brahmanbaria, Chandpur, Feni, Noakhali, and Laxmipur. They depend on the 10-bed ICU of Cumilla Medical College Hospital, leading inevitably to people from all these districts being deprived of lifesaving treatment.
All the 10 beds of the unit have been dedicated for Covid-19 treatment.
The six districts have no private ICU facilities that admit coronavirus patients.
Dr Mojibur Rahman, director of the Cumilla Medical College Hospital, said five more beds will be set up at the hospital soon. The work is ongoing, he added.
"Besides, we are trying to collect some high-flow nasal cannulas for the ICU, in order to provide oxygen directly into lungs. It will improve our treatment at the ICU."
High-flow nasal cannulas can give oxygen at a rate of 60 litres per minute to critical Covid-19 patients.
For Cumilla as a whole, there are 90 beds in isolation units at upazila health complexes and a 154-bed isolation unit at Cumilla Medical College Hospital, according to the civil surgeon office.
As of Thursday, a total of 2,994 people have tested positive for Covid-19 in Cumilla, with 87 deaths so far, according to data from the civil surgeon's office.
The rate of infection in Cumilla city is high, said Civil Surgeon Dr Neyatuzzaman, adding the administration will soon enforce lockdown in some areas to control the spread of the virus.