Coronavirus in US: 'Window closing' for halting spread
Warns health secretary; top immunologist warns vaccine may not produce herd immunity in US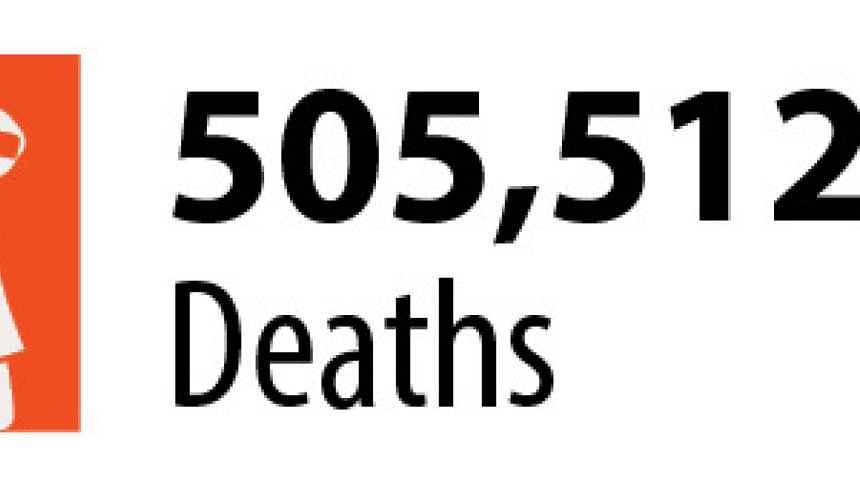 The US health secretary warned that the window to halt the spread of coronavirus across America was closing after a clutch of southern states reported record increases in cases.
The US has now registered 2.5m cases and more than 125,000 deaths from the disease — a quarter of the 10m infections and half a million fatalities around the world, despite the country comprising little more than 4 percent of the global population.
While Los Angeles, Chicago and New York remain the hardest-hit cities, US health and human services secretary Alex Azar said cases were "surging" in southern parts of the country.
Several of these states emerged early from lockdown against federal guidelines that recommend phased openings only once a state has recorded a fortnight-long reduction in cases.
"The window is closing," Azar told Meet the Press on Sunday. He urged individual states to boost community-wide testing and collect blood plasma donated by patients who have recovered from the virus to bolster available treatments.
"We have to act, and people as individuals have to act, responsibly. We need to social distance, we need to wear our face coverings."
The US state of California was the latest authority to re-impose restrictions, ordering bars in Los Angeles and six other counties -- an area with 13.5 million residents -- to close because of the rising number of cases.
California had already ordered some areas to reinstate stay-at-home orders, while San Francisco announced a "pause" in its reopening.
In Florida, Governor Ron DeSantis conceded there had been an "explosion" in new cases as the state notched a record 9,585 cases in 24 hours.
Young people frustrated by months of confinement have poured back to the state's beaches, boardwalks and bars, often without masks and seemingly unconcerned about social distancing.
Several other countries have also imposed new restrictions to counter fresh outbreaks. China imposed a strict lockdown on nearly half a million people in a province surrounding Beijing to contain a fresh cluster.
Beijing official Xu Hejian described the situation as "severe and complicated".
And while the British government warned it might have to shut down the city of Leicester because of a spike in cases, it still plans a July 4 reopening of pubs, restaurants and hairdressers across England.
'VERY SERIOUS SITUATION'
The tension between reopening battered economies -- efforts pushed in the US by Trump -- and public health concerns is a source of debate in nearly every country.
"This is a very, very serious situation and the window is closing for us to take action and get this under control," US Health and Human Services Secretary Alex Azar said.
Dr Anthony Fauci, director of the National Institute of Allergy and Infectious Diseases in US, told CNN he would "settle" for a Covid-19 vaccine that's 70% to 75% effective, but that this incomplete protection, coupled with the fact that many Americans say they won't get a coronavirus vaccine, makes it "unlikely" that the US will achieve sufficient levels of immunity to quell the outbreak.
A CNN poll last month found one-third of Americans said they would not try to get vaccinated against Covid, even if the vaccine is widely available and low cost.
In the interview, CNN asked Fauci whether a vaccine with 70% to 75% efficacy taken by only two-thirds of the population would provide herd immunity to the coronavirus. "No -- unlikely," he answered.
The EU has pushed back a decision on a list of "safe countries" from which travellers can visit Europe -- a list which could exclude the US.
India reported close to 20,000 fresh cases for the second day running yesterday, as the financial hub of Mumbai extended its lockdown by a month.
Thailand's nightlife will restart with some restrictions this week, the kingdom announced yesterday, part of a return to normalcy as it prepares to welcome business travellers and medical tourists after a ban on foreign entry.
Iran reported 162 more deaths, the highest single-day toll since the country's outbreak began in February.
"This increase in numbers is in fact a reflection of our overall performance, both in terms of reopening and in compliance with health protocols," health ministry spokeswoman Sima Sadat Lari said at a news conference yesterday.
ONE DEATH IN EVERY 18 SECONDS
Case numbers are also growing swiftly in Latin America, on Sunday surpassing those diagnosed in Europe, making the region the second most affected by the pandemic, after North America.
On the other side of the world, Australian officials were considering re-imposing social distancing measures in some regions yesterday after reporting the biggest one-day rise in infections in more than two months.
According to Reuters calculations based on an average from June 1 to 27, more than 4,700 people are dying every 24 hours from Covid-19-linked illness. That equates to 196 people per hour, or one person every 18 seconds.
The first recorded death from the virus was on January 9, a 61-year-old man from the Chinese city of Wuhan who was a regular shopper at a wet market that has been identified as the source of the outbreak.
In just five months, the Covid-19 death toll has overtaken the number of people who die annually from malaria, one of the most deadly infectious diseases.
The death rate averages out to 78,000 per month, compared with 64,000 AIDS-related deaths and 36,000 malaria deaths, according to 2018 figures from the World Health Organization.