Cops bust 'weapon factory' in port city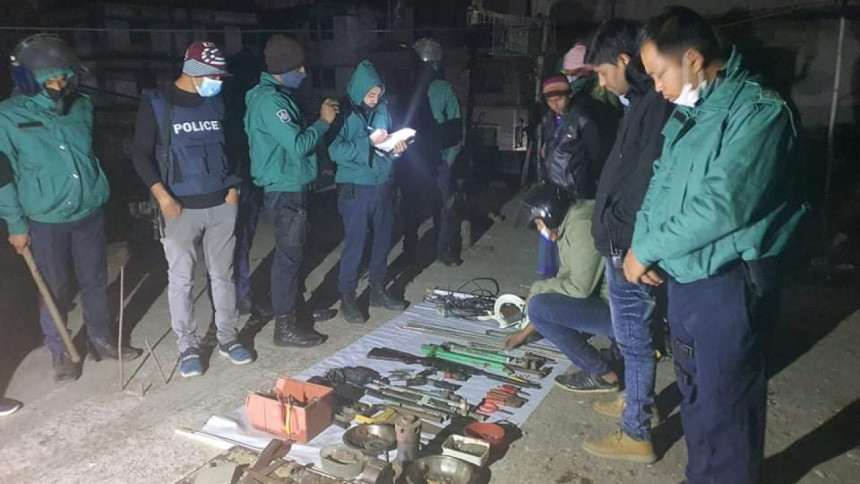 Police claimed to have busted a makeshift weapon-making factory on a building's rooftop in Chattogram city's Bangshal Para early yesterday.
A woman was arrested in connection with the incident.
At a press conference later in the day, Deputy Commissioner (West) Faruqe Ul Haque of Chattogram Metropolitan Police said locals in the area told them that they had heard a gunshot on Thursday night.
Later, a team from the Double Mooring Police Station rushed there and started investigation. At one point, the law enforcers went to the roof of a building, owned by one Gafur Khan Sowdagar, and discovered the factory.
The DC said they recovered two pipe guns, an air gun, and weapon-making equipment, which were hidden behind pigeon cages.
"We have come to know that the factory was run by one Md Nizam Khan. On Thursday night, he fired a shot targeting another man following an altercation with him over the recent Chattogram City Corporation elections. The bullet did not hit the target.
Officer-in-Charge Mohammed Mohsin of Double Mooring Police Station said, "From the design of the firearms and weapon-making equipment, it is evident that Nizam is a fierce criminal."
"Nizam is on the run and police were trying to arrest him," said the OC.
The law enforcers arrested his wife Meherunnesha Mukta, 39, for her alleged links with running the factory, said police.