College girl gang-raped in Manikganj
7th-grader raped in Jhenidah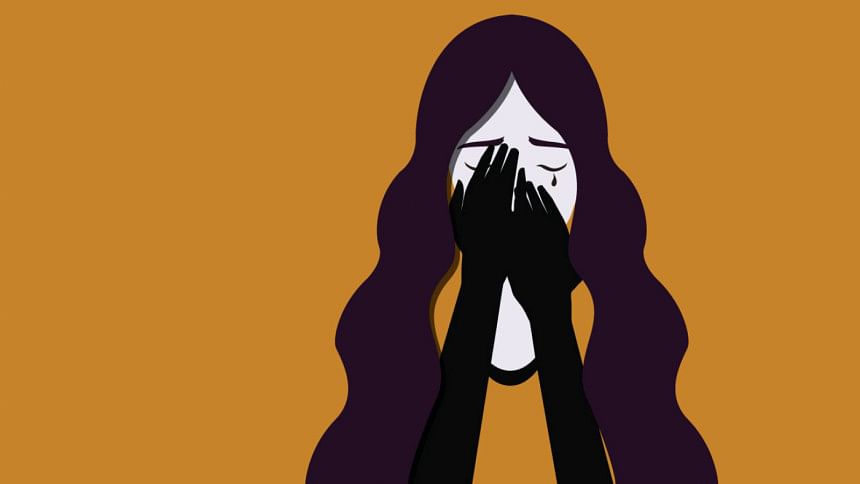 Police on Saturday rescued a college student from a gang of seven young men, three of whom had allegedly raped her while the others filmed the act, in Manikganj's Singair. 
Five of the suspects, including the three alleged rapists, had been arrested while two others managed to flee.
Meanwhile in Jhenidah, a village quack was arrested after he allegedly raped a seventh grader girl on Sunday.
In Manikganj, Fazar Ali, 18, Shipon Khan 18, Dipu, 19, Nazmul, 21 and Sujon, 28, were sent to jail by a court in connection with the alleged gang-rape. Police are looking for the two other accused.
According to a case filed by the girl, the suspects held a friend of hers around 8:00pm and forced him to call her out of her home.
When the girl went out of her home a little later, the suspects held her and took her to a field behind her home. They tied her friend with ropes and three of them raped her while the others filmed, said Imam Hossain, officer-in-charge of Singair Police Station.
After midnight, the girl's friend somehow managed to call his brother and police.
The law enforcers then rushed to the scene and rescued them. Police also recovered the footage, said the OC.  
Also in Manikganj, expelled Jubo League leader Ali Hossain Uzzal, 40, was sent to jail on Sunday on charges of raping and blackmailing a woman for around four years in Ghior.
Uzzal, former organising secretary of Nali Jubo League, had raped the woman and filmed it once. He later raped her on many occasions and took Tk 8.25 lakh by threatening to circulate the video unless she gave him the money and kept mum, police said.
The woman filed a case accusing him on April 16.
He was expelled from the party recently following the allegations.
In Jhenidah's Moheshpur, a village quack was sent to jail on charges of raping a seventh grader after injecting her with sedatives on Sunday.
The accused Saiful Islam of Sezia village runs a drug store, said police.
The girl had not been feeling well for a few days and she went to the suspect's drug on Sunday morning store for medication, her mother said.  
Locals said the girl was unconscious and bleeding profusely when they rescued her from behind the drug store. The suspect had fled the scene by the time the locals heard groaning from inside the shop and went in to see what was happening.
She was admitted to a hospital with serious injuries, police said.
A court sent the suspect to jail after he was arrested hours after the girl was rescued, said Rashidul Alam, officer-in-charge of Moheshpur Police Station.
Also on Sunday, school teacher Abdul Kalam Azad was suspended in Natore's Bagatipara after he was arrested on charge of sexually harassing a sixth grader.
In Mymensingh's Iswarganj on Saturday, an eighth-grader attempted to die by suicide after she was allegedly raped by one Yeasin Mia, 22, said Abdul Karim, sub-inspector of Iswarganj Police Station.
The suspect was arrested and sent to jail.