Char children getting poor schooling
Handful of teachers available; they come late, leave early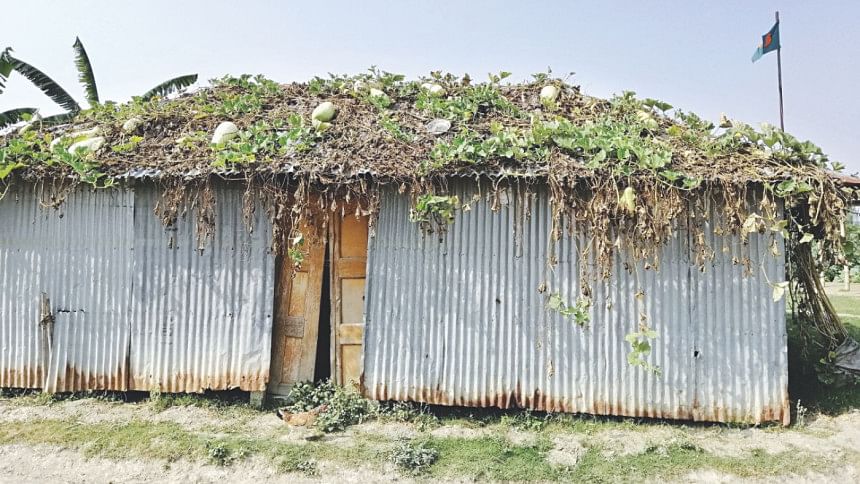 It was late March. Around 3:30pm, the Biramer Pachgachchi Govt Primary School was already closed, an hour too early. So was the nearby Kashirpara Govt Primary School. Both schools face a similar problem --neither the students nor the teachers are much interested in class.
While many families ask students to stay home and tend farm or help in household work, teachers are either few in numbers or they live far from the chars, and so come to school late and leave early.
This is the scenario of almost all 44 government primary schools in the char areas of Sariakandi upazila. Poor infrastructure and a lack of awareness of the families are two additional problems.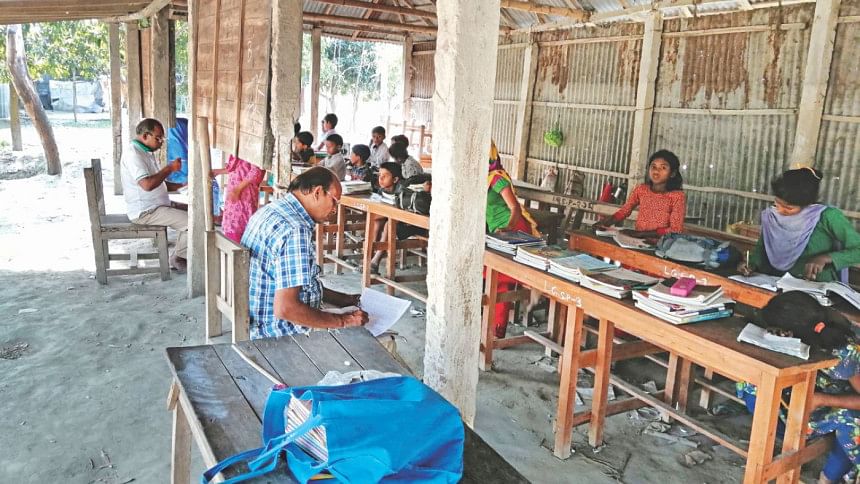 There are 168 government primary schools in the upazila.
The Daily Star visited 16 of the 44 char schools last month and found 20 of the 78 teachers' post vacant. Another five teachers were on study leave, worsening the crisis.
In Kazla New Govt Primary School, there are 159 students. Headteacher Zesmin Akter said, "We need at least six teachers, but we have just two.
"To overcome the crisis, we temporarily hire local people having only higher secondary education while a bachelor degree is required for the position."
According to the upazila education office, there are 170 teachers, out of 223 posts, in the 44 char schools. The government pays them Tk 5 crore annually. The schools have a total of 6,739 students.
Often, teachers are also irregular.
This correspondent found that 24 out of the 51 teachers working in the 16 char schools live in Bogura town, some 30-40km away. As a result, most of them cannot reach on time, while they are in a hurry to leave after 3:00pm.
Mokhlesur Rahman, vice-president of Mayurer Char Govt Primary School managing committee, said teachers are regular in school, but they reach school around 10:00am and leave before 3:30pm.
Sariakandi Upazila Education Officer Rafiqul Alam said teachers must start classes at 9:00am and cannot leave before 4:30pm.
He said teachers who live in the district town usually come to school late and leave early. They hurry to catch boats departing the chars at a certain time.
"Teachers don't want to live in the remote char areas. Even if we promote and send them to char areas, some are simply not interested to join," the officer said.
Asked, most teachers said they lived in the town because their children study at schools and colleges in Bogura town.
Asfia Ferdawosy, assistant teacher of Char Dighapara Government Primary School, said, "My son and daughter go to Azizul Haque College. I have to live there."
Besides, many female teachers complained of lack of security in char areas.
Parents alleged that they send their children to school, but only few classes are held, and they come back home before 4:00pm.
In some cases, teacher crisis is not the only problem.
In Thanamath Government Primary School, there are five teachers for 53 students.
"We don't have a crisis of teachers, we have a crisis of students," said headmaster Razib Hosain. "The school stands on the Jamuna river bank. So people are leaving the place in fear of bank erosion, and we are not getting enough students."
During the visit, student attendance at all the 16 schools was found below 60 percent.
"In every cropping season, student attendance falls further. Due to poverty and lack of awareness of parents, students skip classes to help in harvesting," said Azizar Rahman, headmaster of Benipur Government Primary School.
In some char areas, there is no school for children at all, after they were forced to relocate following floods and erosion.
As a result, there are three schools within a stretch of just 250 meters. 
Zui Akter, headteacher of Chandanbaisha Government Primary School, said, "Between 1995 and 2015, we shifted our school five times due to river bank erosion. Finally, we found this place."
The upazila education officer said 12 schools have been relocated to the embankment in different time from the char areas in Sariakandi. "We are making a plan to shift these schools back to the chars."
The infrastructure is poor too; there are no toilet or wash block in 10 of the 16 schools visited.
Shafiqul Islam, headmaster of Adbaria Government Primary School, said, "We hold classes in a broken tin-roof house, sometimes under the open sky. How will we get toilets?"
Upazila education officer Rafiqul said they get an allocation of Tk 1.5-2 crore for the development of the 168 schools every year. "We build toilets and school buildings with the money but they get washed away every time the floods hit."
Due to extreme weather conditions and natural disasters like storm, hailstorm, and floods, the schools remain mostly closed, further depriving the char children of basic education. 
Acknowledging the problems, District Primary Education Officer Tahmina Khatun said the results of primary school students in Sariakandi are worse compared to any other upazila in Bogura. "We have a myriad of challenges in char areas; we are working to improve the conditions."
In the 2018 Primary Education Completion exams, Bogura sadar upazila saw a pass rate of 99.46 percent, while 38 percent got GPA-5.
On the other hand, the 44 char schools had a pass rate of 65 percent and the number of the GPA-5 scorers was below 5 percent.