BGB seizes 1.20 lakh yaba pills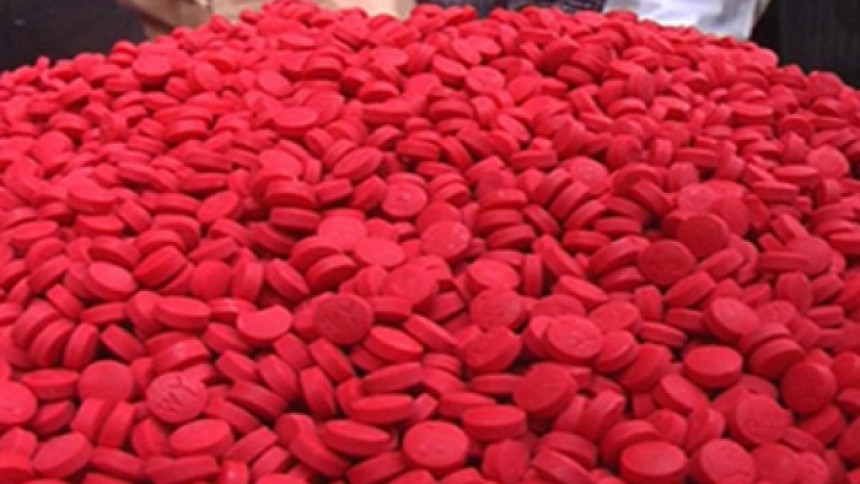 The Border Guard Bangladesh (BGB) yesterday seized around 1.20 lakh yaba pills from Alir Dail area in Teknaf upazila early in the morning, just a couple of days after controversial former lawmaker Abdur Rahman Bodi's "strong warning" against yaba traders.
The seized drugs are worth Tk 3.60 crore.
The CNG-run auto rickshaw, which was used to carry the contraband drug was also seized at a raid, in Khurer Mukh temporary check post, said Teknaf's BGB battalion-2 Director Lt Col Md Asad-uz Zaman Chowhury, adding that no one was arrested.
The seized yaba pills have been kept at BGB Battalion headquarters. It will be destroyed later in presence of high officials, representatives of the Narcotics Control Directorate, local elites and media representatives, he said.
Earlier on Friday, former Awami League lawmaker of Cox's Bazar-4 Abdur Rahman Bodi ordered yaba traders at Teknaf and Ukhia upazilas to surrender within five days.
"If the enlisted yaba traders do not surrender within five days, they will face terrible consequences," he said at a programme in his Lama Bazar home in Teknaf on Friday evening, according to a UNB report.
"Those who are involved in yaba trading must communicate with me and I will help them surrender," he said, adding, "We, the people of Teknaf, will prove that we are free from the deadly impact of yaba."
Bodi's wife Shahin Akhter, incumbent lawmaker of the constituency, was also present at the programme.
"The yaba traders have to leave the country if they do not surrender," she said, adding, "The war against drugs will continue."
Last year, Bodi faced huge criticism for his alleged involvement in yaba trade following which the ruling AL nominated his wife Shahin Akhter over him for the constituency to contest the 11th national election.
The lawmaker's name had figured in at least three reports -- one by the narcotics department, one by the BGB and one by a joint intelligence body formed to tackle the drug trade in Cox's Bazar-Tek4naf area.
Bodi's and several of his relatives' names, including Mong Mong, were also in a list prepared by the home ministry last year.