Covid Vaccines: One lakh Pfizer shots to arrive next month
Bangladesh asks Canada, India for AstraZeneca shots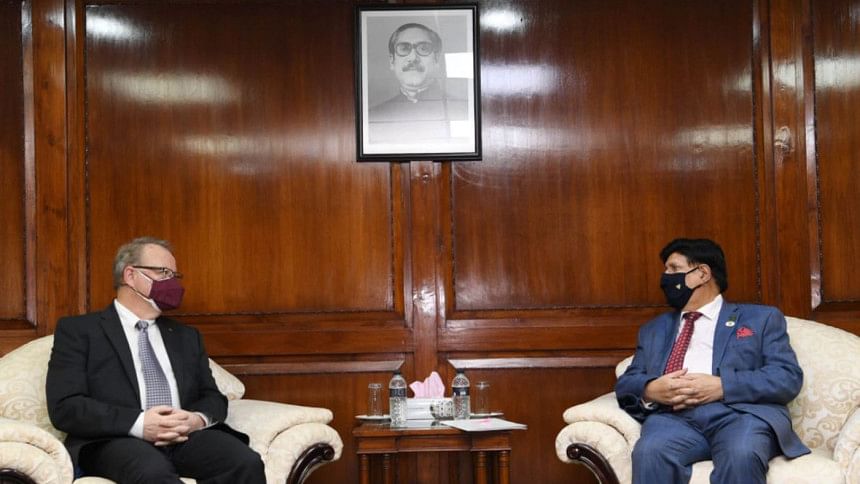 A total of 1.06 lakh doses of Pfizer vaccine will arrive in Bangladesh on June 2, Health Minister Zahid Maleque has told The Daily Star.
He said the COVAX authority has written to the health ministry, informing the decision.
Meanwhile, Bangladesh has requested Canada to provide two million AstraZeneca vaccines in an emergency for second doses.
Foreign Minister AK Abdul Momen requested Canadian High Commissioner to Bangladesh Benoit Préfontaine as the latter called on the minister at the foreign ministry yesterday.
Stating the emergency need of 1.6 million doses of AstraZeneca vaccine to provide second doses in Bangladesh, he underscored that this is at present a high priority for Bangladesh.
Bangladesh and Beximco Pharmaceuticals Ltd signed a deal with the Serum Institute of India to procure 30 million shots of the Oxford-AstraZeneca vaccine, but only 10.2 million doses have been received from India, which has halted the export of vaccines because of its high demand amid severe Covid-19 infections.
Canadian Procurement Minister Anita Anand recently said Canada might distribute excess stockpiles of the AstraZeneca vaccine among the developing countries.
Momen urged the envoy to pursue with his government for at least two million doses so that Bangladesh receives those directly, not through the COVAX facility of the World Health Organization.
He also proposed that Canada may help vaccinate the Rohingyas in Bangladesh separately.
Bangladesh is also trying to acquire vaccines from some other countries, including China, Russia, and the US.
In response, the Canadian high commissioner assured the minister of following up the request with his government.
High Commissioner Préfontaine also stated that Canada would continue its humanitarian support for displaced Rohingyas and host communities at the same scale for the next three years, as was reflected in their budgetary framework for the next three years.
Meanwhile, Bangladesh has also requested India to supply the Astrazeneca vaccine as the stock of available vaccine will run out soon, affecting the inoculation campaign in the country.
Foreign Minister AK Abdul Momen made the request during a phone call with Indian Foreign Minister S Jaishankar yesterday.
The telephone conversation was held when Bangladesh sent medicine, injections, and other medical supplies worth Tk 20 crore to India through Benapole land port as assistance during the country's devastating Covid-19 situation.
Toufique Hasan, Bangladesh's deputy high commissioner in Kolkata, handed over the supplies to the Indian Red Crescent Society.
This was the second consignment of medical assistance from Bangladesh. On May 6, Bangladesh provided over 10,000 vials of Remdesivir injections to India.
Under an agreement among the Bangladesh government, Beximco Pharmaceuticals Ltd, and Serum Institute of India, Bangladesh received 10.2 million vaccines of 30 million doses. Amid severe Covid-19 infections and deaths, India has been halting exports of vaccines since March.
In response to Momen's request, Jaishankar said he is aware of the situation in Bangladesh and the demand for Astrazeneca vaccines.
Foreign Minister Momen said as India could not supply the vaccine in time, Bangladesh has requested the US to supply it immediately.
He also told his Indian counterpart that he may request the US to supply vaccines to Bangladesh. Jaishankar said he would make the request to the US.
In another development, at least 1,014 Bangladeshi expatriate professionals, including doctors, engineers, and professors -- led by Dr AFM Haque -- have written an application to the White House requesting a supply of vaccines to Bangladesh.
Besides, Georgia State Senator Sheikh Rahman, Bangabandhu Foundation US Branch, and Muktijoddha Council there also requested the White House for sending vaccines to Bangladesh.