Amphan still taking a toll
6 months after the cyclone, villages in Satkhira, Khulna remain inundated as WDB yet to repair damaged embankments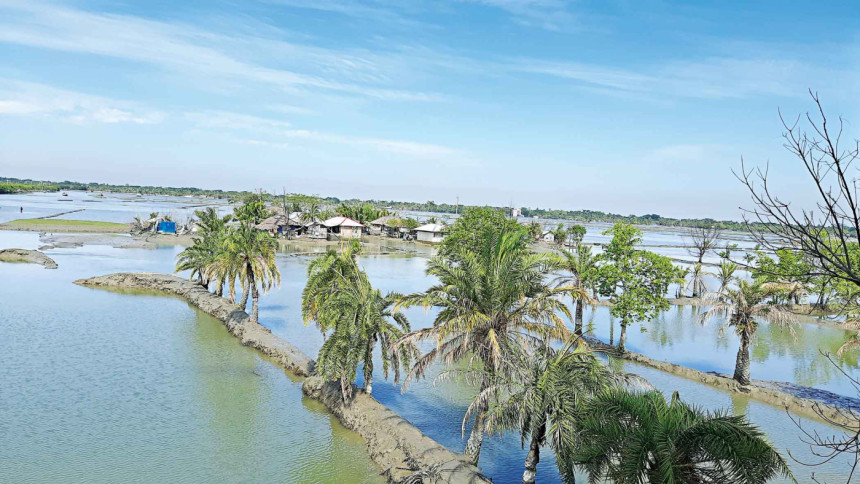 Thirty-seven villages in Pratapnagar and Sriula unions of Satkhira's Assasuni upazila went under water when Cyclone Amphan broke major river embankments at several points in May this year.
Both the unions remain largely submerged, six months on, due to the breaches in the Kopotakkho and the Kholpetua river embankments.
Communications with the upazila headquarters have been cut off since then as tidal surges forcing through the breaches continue to keep the two unions inundated.
People are suffering from a lack of sanitation as well as an acute shortage of drinking water as all sources of potable water have been submerged in the brackish river water.
Amir Ali Sheikh of Tipna village in Pratapnagar told The Daily Star that these past six months have been "horrible" and he had not experienced anything like this in the last 40 years.
"When the first tidal surge hit after the embankments broke, the water rushed through the breaches and swept away everything. Some water receded at low tide, but there was no longer a liveable environment," said 68-year-old Amir Ali, describing the events of May 20.
"Up until last week, I received only 20kg rice from the union council, nothing else," Amir Ali said.
Chairman of Pratapnagar UP Sheikh Zakir Hossain told The Daily Star, "Out of 18 villages in the union, 17 are completely submerged. There are regular tidal surges in the whole union now.
"There has been an acute shortage of drinking water. The sanitation system has collapsed.
"We repaired six out of nine points of the embankment which were washed away by Cyclone Amphan."
The Pratapnagar UP chairman blamed Water Development Board officials, saying, despite the allocation of resources, the embankment was repeatedly breached due to untimely work.
On May 20, embankments in coastal areas of Assasuni's Pratapnagar, Sriula, Anulia, Khajra and Shyamnagar's Gabura, Padmapukur, Munshiganj and Kashimari unions were breached.
According to sources at the Satkhira Water Development Board office, 34km of embankment at 70 points under Shyamnagar, Kaliganj and Debhata upazilas of Satkhira WDB-1 were partially damaged.
Additionally, a 1km stretch of embankment had collapsed at 13 points, 66km of embankment in Satkhira WDB-2, and 105 points in Satkhira Sadar, Assasuni and some parts of Shyamnagar had been damaged.
Around 20 out of 21 villages in Sriula union have been inundated since Cyclone Amphan hit.
Chairman of Sriula UP Abu Hena Shakil told The Daily Star that Mariala, Hazrakhali, Kalimakhali, Nasimabad, and Thanaghata villages -- with around 28,000 affected people -- remain under water for hours every day since Cyclone Amphan struck.
"People of the area have been suffering due to a lack of food and pure drinking water," he said. Sources of "sweet water", primarily freshwater ponds, have become unusable.
Sohag Khan, project implementation officer of Assasuni upazila, said 546 tonnes of rice and Tk 2,120,000 in cash have been distributed among the affected people in the upazila, as of November 26.
In Assasuni upazila, 23,450 houses have been destroyed -- 1,050 of them completely, said Sohag.
Upazila Nirbahi Officer Mir Alif Reza told The Daily Star, "We are trying to repair the dam to protect the villages from the water but it was not possible to save the dam in Hazrakhali."
The dam had been completed at a cost of around Tk 3 crore, the UNO said.
"We are providing rice through the local union councils for the affected people. We have already distributed 100 tonnes of rice in Pratapnagar union," he added.
Executive engineer of Satkhira Water Development Board Division-2, Sudhanshu Sarkar, said the problem was caused by the rupture of the embankments due to the high tide.
"Although the ring dams were constructed on an emergency basis, they broke again two months ago," he said, referring to the temporary earthen dykes set up in Kola and Harishkhali areas of Pratapnagar union following the cyclone. They are yet to be repaired following the breaches.
"I will start working soon with a plan to protect these villages," Sudhanshu said recently.
On the other hand, five villages in Koyra upazila of Khulna are similarly inundated, affecting around 5,000 people.
SM Shafiqul Islam, chairman of Koyra upazila, told The Daily Star that at least six villages -- including Gobra, Ghatakhali, Uttor Bedkhashi, Katmorchar, and Kashihaatkhola -- are still inundated following Cyclone Amphan.
"We urge the Water Development Board to take the necessary action to rebuild the embankment to protect these areas and villages," said the upazila chairman.