Additional IGP killed in Congo road crash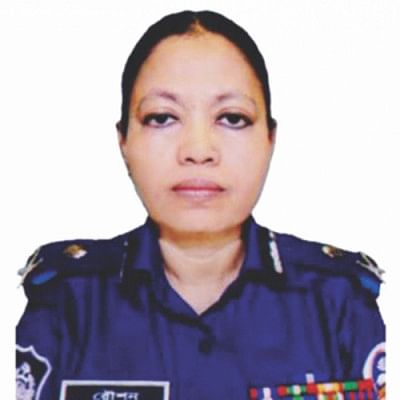 An additional inspector general of Bangladesh police was killed in a road crash in Congo on Sunday during her visit to a UN peacekeeping mission there.
Rowshan Ara Begum, 57, died on the spot in a collision between a civilian lorry and the vehicle carrying her and others on the way to a Medal Parade of the Bangladesh Female Police Unit (BANFPU) in Kinshasa, the capital, around 6:30am local time, said Md Sohel Rana, assistant inspector general at police headquarters.
The driver and two other passengers including Farzana, commander (SP), BANFPU, are safe, he added.
Prime Minister Sheikh Hasina expressed deep shock and sorrow at the death of Rowshan.
In a condolence message yesterday, the PM, who is now in London, prayed for the eternal salvation of the departed soul and expressed sympathy to the bereaved family.
Rowshan Ara Begum, ppm, ndc, joined police in February, 1988 after obtaining masters degree from Dhaka University and served in a variety of high-profile positions, including that of assistant police commissioner of the accounts section, reserve office, traffic division and training unit of the Dhaka Metropolitan Police.
Due to her dedication and hard work, she was the first woman police officer of the Bangladesh Police in the rank of a Superintendent of Police (SP) at the district level.
She successfully performed her duty as the SP of Munshiganj from 1998 to 2000. She later served in different units as deputy commissioner, additional commissioner and acting commissioner of police.
She was awarded with the "Inspector General Good Services Badge" twice for playing an important role in controlling militant activities, arresting militants, and recovering illegal drugs, arms, and ammunitions.
Rowshan was an advocate of women's rights and worked with communities, political leaders, journalists, and others to create awareness on violence against women and children, by championing women's rights issues and combating human trafficking.
In 1999, she was awarded the Anannya award, which is given to outstanding women in Bangladesh by the magazine Anannya.
She served as a crime analysis officer in a UN Peacekeeping Mission in Kosovo, and as chief-of-staff in UNMIS-UNPOL Peacekeeping Mission in Sudan.
At the same time, she served as ex-officio president of Women's Network for UNMIS-UNPOL with members from 42 countries. She was also a recipient of UNMIK Medal and UNMIS Medal.
She left behind her husband, a daughter, colleagues, and a host of well-wishers.