Aching for playgrounds
Children at a dialogue share their thoughts on greener, cleaner Dhaka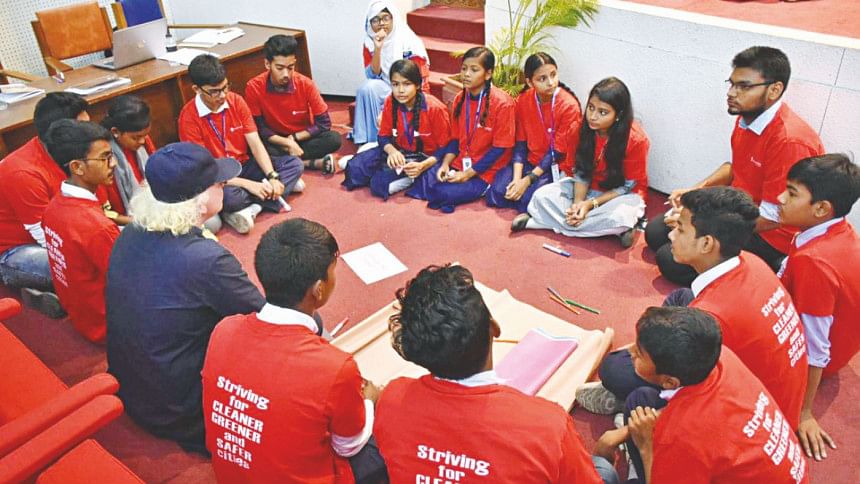 They long for a city free from sound and air pollutions. They desire a city with footpaths suitable for walking and playgrounds near their doorsteps. They also want to preserve the ecosystem.
Around 60 young minds -- secondary and higher secondary level students from different educational institutions across Dhaka and Narayanganj -- came up with these views yesterday, while sharing their perspectives with policymakers on the revised detailed area plan (DAP) for the capital.
Save the Children organised the daylong dialogue at Rajuk auditorium in the capital with a view to ensuring cleaner, greener and safer city for children who according to the organisation constitute around half of the country's 4.27 crore urban population.
Yesterday, the children, aged below 18, took part in group works, sorted out various problems, and offered solutions from their perspectives.
In response, the policymakers promised to incorporate those views and ideas into the revised DAP.
Each group of children highlighted the outcomes of their group works on six different topics, including school zoning, playground and public space, urban environment, walking facilities or urban mobility, urban neighbourhood, and urban safety and security.
Following the group works, the children, divided into six groups, gave presentations on their thoughts during the closing session attended by high officials involved with the DAP.
Talking to The Daily Star after the programme, Jannatul Ferdous, an eighth grader of Bengali Medium High School in Mohammadpur, said, "The toughest problem for me is to walk on the pavements. There are makeshift shops occupying footpaths."
Manik Khan, another eighth grader of Maddya Ganda High School in Savar, intervened. "Where would they [street hawkers] go? There should be certain place for their business," he said.
Due to differences in schools' qualities, children often are forced to go far from their homes to attend classes. To solve this, some participants wanted schools within a 10-minute walking distance from their homes.
Mukul, a tenth grader of Bengali Medium High School, said, "We must have separate playground for girls."
Talking to this correspondent, Prof Zaki Islam of Bangladesh University of Engineering and Technology (Buet), who instructed one of the groups yesterday, said, "The children shared their perspectives [on different matters] and smartly placed the solutions in a short time."
Earlier in the morning, high-ups from Rajuk and other government agencies concerned, and other experts addressed the inaugural session of the programme.
Speaking there, Prof Ishrat Islam of urban and regional planning department of Buet, said all the available playgrounds must remain open and any available open spaces must be utilised for the sake of an "overall development of children".
"Wherever necessary, the government has to purchase land to create playgrounds and open space for a healthy future of the children," she said, adding, "Or else, today's children will denounce the elders tomorrow if they fail to draw up children-friendly cities today."
Prof Md Akter Mahmud, vice-president of Bangladesh Institute of Planners, said, "Mere plots for residential and commercial purposes without proportionate open spaces and playgrounds will never help healthy development of children." Rajuk Chairman Md Abdur Rahman said, "The existing detailed area plan did not consider having sufficient playgrounds, we are trying to ensure adequate playgrounds in the revised plan."
Rajuk board member for planning Md Sayeed Noor Alam said development for tomorrow depends on the "authority, personality and influence" of today's children.
DAP Project Director Md Ashraful Islam and consulting firm's deputy team leader Khondker Neaz Rahman, among others, also spoke.
Rajuk authorised first DAP for 2010-2015. In continuation of that plan, the capital's development regulator is now working to finalise a "revised DAP" for up to 2035.