4th phase flood likely to ruin crops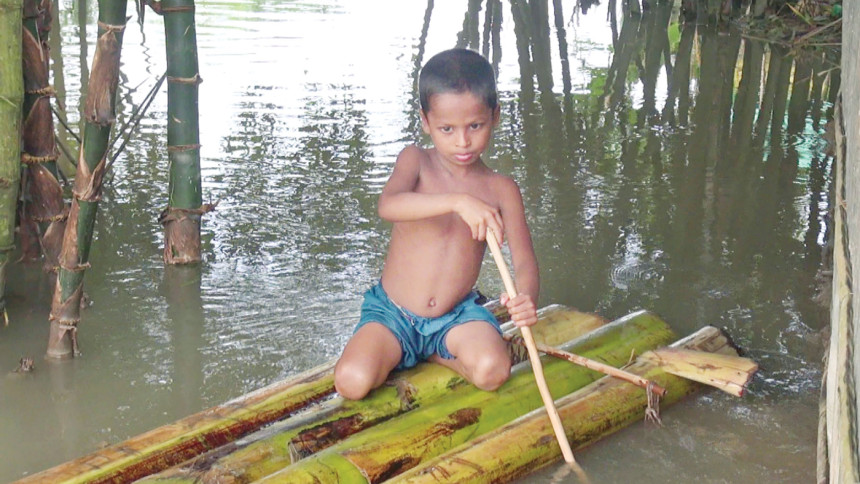 The fourth phase of flood in the northern region may damage large quantities of paddy and winter vegetables, feared farmers and experts.
As a result, the market of such seasonal agricultural goods may remain unstable and the price may shoot up, they added.
The officials at the Department of Agriculture Extension (DAE) in different flood-hit districts were encouraging farmers to re-cultivate vegetables after floodwater recedes.
This year, the first phase of flood hit the region in June due to heavy downpour and onrush of water from upstream.
Subsequently, the second and third phases hit the area in the following month. Finally, the region witnessed the fourth phase last week.
The water level on the Brahmaputra, the Jamuna and the Padma rivers were on the rise that might continue for the next 48 hours, said a bulletin of Flood Forecasting and Warning Centre (FFWC).
"The major rivers of the Upper Meghna Basin in the North-Eastern region of the country are in falling trend, which may continue in next 48 hours," said the bulletin that was released at 9:00am yesterday.
At least seven rivers were flowing above danger level yesterday at eight stations across the country, read the FFWC bulletin.
Meanwhile, Bangladesh Meteorological Department (BMD) yesterday forecasted that light to moderate rain and thunder showers, accompanied by temporary gusty wind, was likely to occur at one or two places over Rangpur, Mymensingh, Sylhet, Chattogram, Rajshahi, Dhaka, Khulna and Barishal divisions today.
Besides, moderately heavy rainfalls may occur at isolated places over the country, said the BMD forecast that was released at 6:00pm yesterday.
In Lalmonirhat and Kurigram, Aman Paddy and winter vegetables on around 12,000-acre land have been submerged in last few days, according to DAE officials.
"I cultivated various types of winter vegetables on four bighas of land. Most of my lands remained submerged in the last six days," said Rajendra Nath Barmon, 65, a farmer of Panga village in Rajarhat upazila of Kurigram.
"I cultivated early varities of winter vegetables on eight bighas of land. Around half of my land was submerged," said Lakhman Chandra Sen, 60, a farmer of Kurul village in Lalmonirhat Sadar upazila.
A vegetable trader Abdus Salam in Lalmonirhat town's Goshala Bazar told the Daily Star that the supply of vegetables already decreased, causing a price hike.
Contacted, Kurigram's DAE Deputy Director (DD) said, "We encourage farmers to re-cultivate vegetables on the affected lands."
In Bogura, around 1,085 hectares of Aman paddy and 45 hectares of vegetables remained submerged in the last few days.
"I cultivated carrot in 50 decimal of land. All of my land remained submerged for the last five days. I will have to incur a loss of around Tk 12,000," said Nunu Pramanik, a resident of Baghopara village in Bogura Sadar upazila.
Contacted, the district DAE's DD Dulal Hossain said, "Rain and flood will cause a delay of the supply of winter vegetables this year."
In Gaibandha, around 4,245 hactres of cropland have been inundated by the latest flood.
In Nilphamari, Aman paddies on around 1,356 hectors of land have been inundated in the latest flood, posing the risk of a loss of around Tk 2 crores, said DAE officials.
"I cultivated potato on one bigha land. But all of my potatoes have been damaged by flood," said Fazal Kadir, a farmer of a village in Kishorganj Sadar upazila.
Contacted, the district DAE's DD Obaidur Rahman Mondol said the losses would be higher, if water does not recede within next 3 to 4 days.
In Panchagarh, vegetables on around 77 hectares of land and Aman paddies on around 106 hectares of land have been damaged by the latest flood, according to DAE officials.
In Thakurgaon, vegetables on around 20 hectares of land and ground nut on around 100 hectares have been damaged, said Aftab Ahmed, DD of the district DAE office.
"I planted cauliflower on around 30 decimals. All have gone under water. I think that most of these have been damaged," said Latit Barman, a farmer of Dakkhin Bathina village in Thakurgoan Sadar upazila.
Our correspondents from Lalmonirhat, Bogura, Nilphamari and Thakurgaon contributed to this report.