2,730 more schools get MPO benefits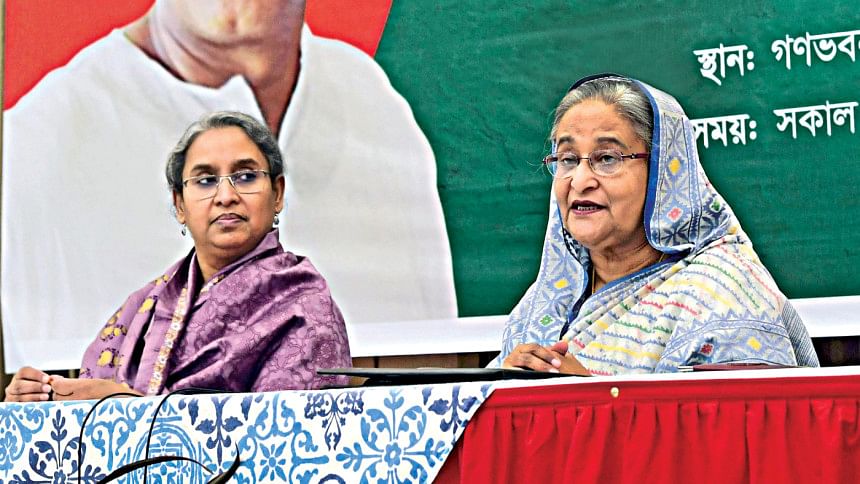 The government has brought 2,730 new educational institutions from across the country under the monthly pay order (MPO) scheme.
Prime Minister Sheikh Hasina revealed the names of the new institutions at Gono Bhaban yesterday. The new list includes 1,651 schools and colleges, 557 madrasas, and 522 technical and vocational institutions.
The decision will take retrospective effect from July this year.
The last time 1,624 institutions were brought under the MPO scheme in 2010, and up till now more than 4.5 lakh teachers and employees of 26,340 educational institutions were enjoying MPO benefits. Under this scheme, non-government teachers get their basic pay as well as some monthly allowances from the public fund.
According to the new list, 439 are junior secondary  schools (Class VI-VIII), 995 secondary schools (VI-X), 68 higher secondary schools, 93 colleges (XI-XII), and 56 degree colleges (XIII-XV). 
Among the madrasas are 357 Dakhil, 128 Alim, 42 Fazil and 29 Kamil-level institutions.
The technical and vocational institutions include 62 agricultural, 48 vocational (independent), 129 vocational (affiliated), 175 BM (independent), and 108 BM (affiliated) ones.
Addressing the function, the prime minister asked the newly-enlisted institutions to follow all the conditions of MPO policy to continue enjoy the benefits. "The conditions will have to be maintained. If any institution fails to comply, it will be excluded from the MPO scheme." 
Sheikh Hasina called for improving quality of education and creating an education-friendly atmosphere for children, with an eventual goal to build a poverty-free country as dreamt by Father of the Nation Bangabandhu Sheikh Mujibur Rahman.
In the future, the government will give the benefit to more institutions, which are in real need and fulfill the conditions, she said. "Those who want to come under the MPO scheme will have to follow these directives (conditions of the policy)." 
The prime minister, however, said the government, in some cases, relaxes conditions for the institutions located in remote places like haors, hills, chars and inaccessible areas. These regions get special consideration for inclusion, she said.
Sheikh Hasina said her government brought qawmi madrasas under the certificate system as tens of thousands of qawmi students were being neglected in the job market due to not having recognition of their certificates. 
"Many employers don't want to recruit anyone without a government-approved certificate," she said. "So, they needed the institutional approval. It would not be fair to neglect them and put blame on them (qawmi students)." 
Education Minister Dipu Moni, Deputy Minister for Education Mohibul Hasan Chowdhury Nowfel, and Senior Secretary to Secondary and Higher Education Division Md Sohorab Hossain were also present at the programme.