Muhith for separate zone for Rohingyas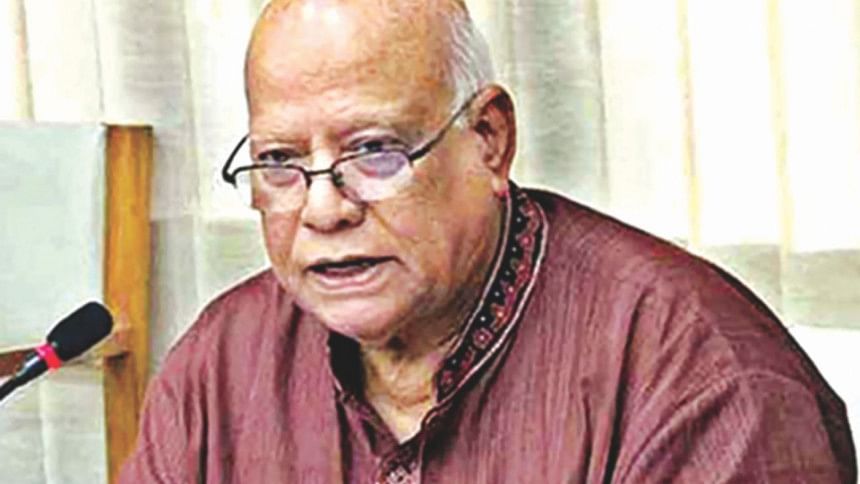 Finance Minister AMA Muhith has proposed creating a separate zone inside Myanmar to rehabilitate Rohingya Muslims under the authority of the international community.
The Burmese is a ferocious nation, and to save the Rohingyas from their atrocity UN force like the peace keeping mission should be deployed there, he told reporters at his secretariat office yesterday.
"The Burmese army is a rogue army. They should be kept away from the separate zone."
Talking about the citizenship of Rohingyas, the finance minister said they belonged to Myanmar. The torture on them reflects the belligerent attitude of the Myanmar government.
The saddest thing is that Nobel peace prize winner Aung San Suu Ki is also supporting the atrocities, Muhith added. 
Asked if the government would seek fund from the international community for the Rohingya refugees here, he said it was not something under consideration at this moment. 
During the Liberation War in 1971, people of the then East Pakistan, now Bangladesh, had taken shelter in India, Muhith said, and so Bangladesh understood well the problems of the Rohingya refugees.
The Bangladesh government has done whatever needs to be done for the Rohingyas, he added. 
NEXT GENERAL ELECTION
Talking about parliamentary election, Muhith said it would likely be held in the end of December, 2018.
According to a notification of the Election Commission, it will start preparing for the election in August. Taking that into consideration, it seems the nation will see its next general election in December, the finance minister said.
The election will be very good and the BNP will participate in it. "I am sure about it."
Muhith then continued to say that if the BNP did not participate, it would no longer be a party. The BNP knew fair elections were held only under the Awami League, he added.
Responding to a query about the BNP's demand for election-time caretaker government, the finance minister said Prime Minister Sheikh Hasina last time put forward a proposal, according to which the incumbent government would turn into caretaker government during election. Hasina had also offered the charge of the home ministry to the opposition during election. 
The BNP didn't accept that offer.
Now since it is no longer in parliament, Muhith said the party would not be given that offer.
If BNP chief Khaleda Zia runs in the next election from his constituency in Sylhet, the minister said he would contest against her. Otherwise, he will support his brother in the election for the seat.