Metro rail by 2019
Project officials upbeat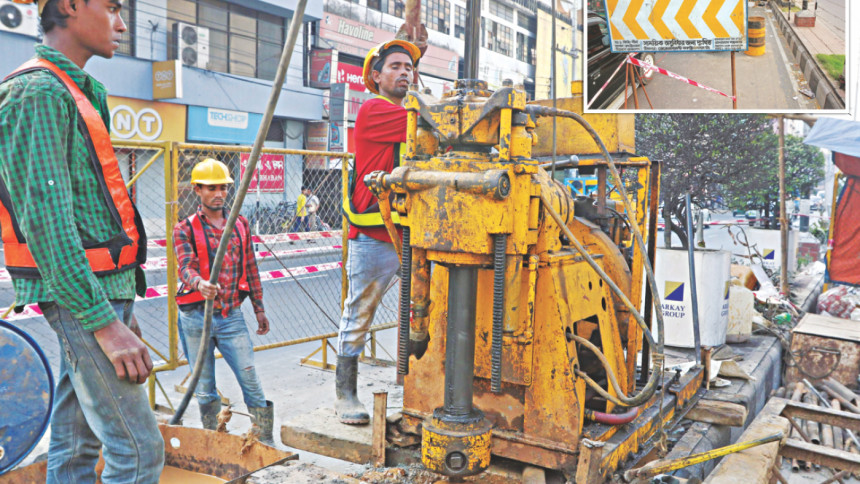 With the soil testing almost done, officials of Dhaka metro rail project hope they can start operation of the dream project partially by the end of 2019.
They plan to launch the service initially on the 10km stretch between Uttara and Agargaon, part of the 20km line that goes as far as Motijheel.
Construction of viaduct and elevated stations along Uttara-Agargaon stretch, divided into two segments, is set to start by November next year. The contractors for the job have already been hired.
It will take until July 2017 for the same job on Agargaon-Motijheel stretch, which is likely to go in full operation by the end of 2020, said Mofazzel Hossain, director of Dhaka Mass Rapid Transit Development Project.
The consortium of consultants have already submitted the basic design and are now working on the details, he told the media at the project office in the capital yesterday.
The Tk 22,000 crore ($2.5 billion) ambitious project is aimed at easing traffic congestion in the capital city through an improved, faster, comfortable and time-bound public transportation service.
According to project director, a train with six air-conditioned spacious coaches will operate every four 
minute, enabling a commuter to travel from Uttara to Motijheel in just 38 minutes which now takes around two hours on a normal day.
A total of 24 such trains would carry 60,000 passengers every hour to both directions and drastically cut the number of private cars on the streets, Mofazzel continued.
The metro rail will have stations at 16 points of the city -- including at Uttara, Pallabi, Mirpur, Kazipara, Shewrapara, Agargaon, Rokeya Sarani, Bijoy Sarani, Farmgate, Sonargaon Hotel, Shahbagh, Doel Chattar, Topkhana Road and Motijheel.
The metro rail will have noise barriers and vibration-free tracks and thus be environment-friendly, he said.
The entire alignment would be divided into four segments and as many contractors would be hired for simultaneous construction, he went on.
The relocation of utility service lines would go on simultaneously as well, Mofazzel added.
Geo-technical examinations of soil at 120 points along the 20-km proposed alignment are done with the laboratory test results pending, said Nurul Islam, safeguard expert of the metro rail project.
The topographical, traffic and geotechnical surveys for the metro rail are also nearly done, he said.
Hideo Omori, team leader of consultants' consortium, who worked in metro rail projects in Delhi and Jakarta, said: "I am making use of experience in building metro rails in this region and the progress of Dhaka metro rail so far is extremely good."
The first tender for pre-qualification to procure 24 locomotives, 144 coaches and equipment for the depot was floated early January.
Nippon Koei Limited of Japan leads the consortium of consultants that include Nippon Koei India Ltd, Delhi Metro Rail Corporation Ltd, Mott MacDonald Ltd India, Mott MacDonald Ltd UK and Development Design Consultants Ltd Bangladesh.
Japan will provide Tk 16,600 crore of the project's total cost as soft loan while Bangladesh government will bear the rest.