Rohingyas have to return to their 'place of origin'
Says India, expresses concern over exodus of Rohingyas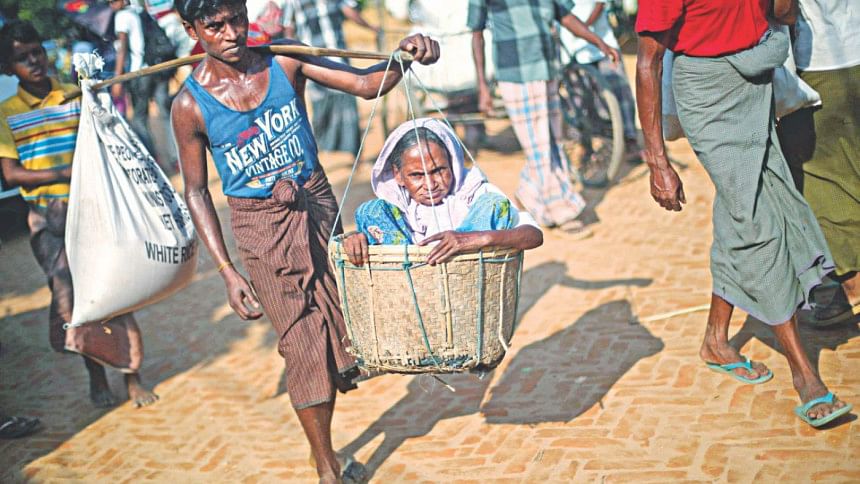 India yesterday said the Rohingya refugees sheltered in Bangladesh and in that country would have to return to their "place of origin" in Rakhine.
The Rohingya crisis could be resolved through adopting a "realistic and constructive" approach rather than condemnation, said Indian Foreign Secretary S Jaishankar.
He was addressing a programme organised by Carnegie India, a centre of the Carnegie Endowment for International Peace, in New Delhi.
"The fact that there is an exodus of a large number of people from the Rakhine State into Bangladesh is clearly a matter of concern. Our objective will be to see how they can go back to their place of origin. That is not easy," the foreign secretary said.
The use of the words "their place of origin" carries significance as the Myanmar government does not recognise Rohingyas as its citizens.
India has already voiced concerns over the gravity of the crisis and held "very high level conversations" with both Bangladesh and Myanmar, Jaishankar told the programme.
He said India was separately engaged with Bangladesh and Myanmar. "We feel that this situation is better addressed through practical measures and constructive conversation rather than doing very strong condemnation. We need a lot more sober, realistic [and] locally sensitive approach."
His remarks came a day after the Rohingya issue had figured in talks between Indian External Affairs Minister Sushma Swaraj and US Secretary of State Rex Tillerson in New Delhi on Wednesday.
An estimated 40,000 Rohingya refugees are staying in Jammu and Kashmir, Haryana, Rajasthan and Uttar Pradesh states and southern city of Hyderabad and in and around Delhi. Over six lakh Rohingyas have fled to Bangladesh escaping violence in Myanmar's Rakhine since August 25.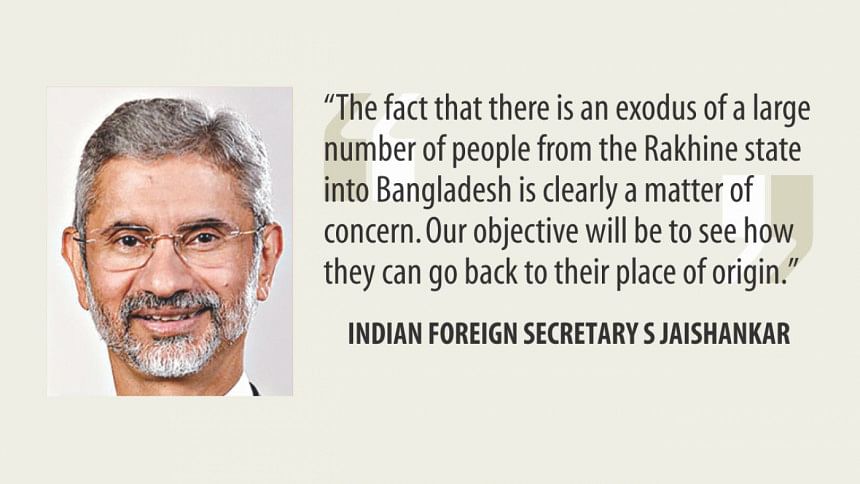 India's home ministry in a communication to all states said the rise of terrorism in last few decades has become a serious concern for most nations as illegal migrants are "prone to getting recruited by terrorist organisations". The ministry asked the state authorities to form a task force each to identify Rohingyas.
Jaishankar earlier spoke on India-Japan cooperation in the Bay of Bengal and Asia-Pacific regions.
"India's behaviour in the South Asian and Bay of Bengal regions does not mean that it is a leading power but shows that it is an 'aspiring leading power' which has regional responsibilities to shoulder," he said.