Locals protest Rajuk move to acquire land in Keraniganj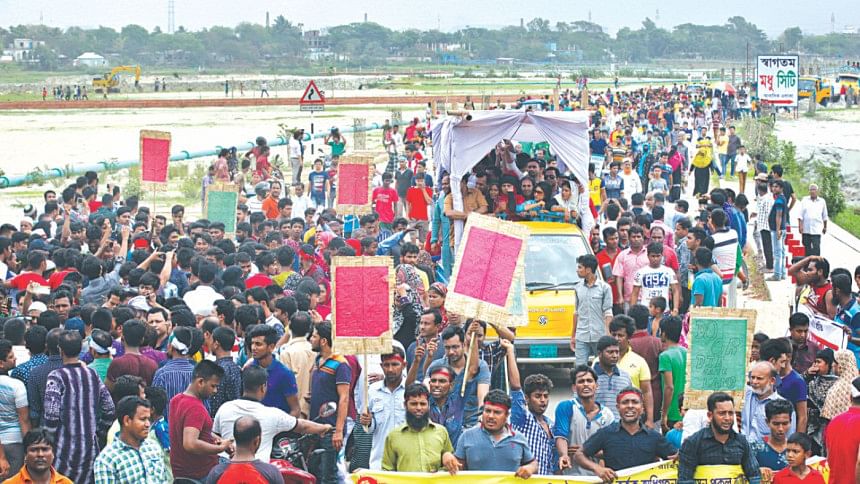 Hundreds of people yesterday formed a human chain along the road from Kalatia to Bosila in Keraniganj in protest at a proposed land acquisition by Rajuk for a housing project there.
Taking part in the demonstration, villagers of Savar's Bhakurta and Keraniganj's Taranagar and Kalatia vowed to protect their land at any cost.
"I will lose about 11 bighas of land I inherited from my forefathers if the project is implemented. How can I give the land to the government where my forefathers are laid to rest?" Shafiqul Islam, 55, of Kalatia told The Daily Star yesterday.
Mamun-ur-Rashid of Bhawal area in Keraniganj said, "Why the government is planning to build a housing project evicting thousands of villagers? We will not let it happen at any cost."
The government could take unused land available near Dhaka city, he opined.
Abdus Sobhan, a farmer of Kalatia village, said the land was their main source of livelihood. "What will we do if the government acquires the land?"
Contacted, Abdur Rahman, acting chairman and a board member of Rajdhani Unnayan Kartripakkha (Rajuk), said, "We are just conducting a primary feasibility on a proposed housing scheme, but not by disturbing the existing settlement in anyway."
The proposed site of the project  will be on an open space of around 2,500 acres from Atibazar road to west of Buriganga river, he said.
It would be a planned urbanisation, but a vested quarter was instigating locals for their own interest, the Rajuk chairman said, adding that the affected land owners would be rehabilitated and provided with due compensation as per law.
A Rajuk town planner wishing anonymity said the housing project would be developed with the facility of a proposed ring road recommended in the revised Strategic Transport Plan.
A press release from Rajuk said the scheme named "Keraniganj Model Town" would not affect people's existing homestead, and the "propaganda" in this regard was unfounded and ill-motivated.
The reality is that the feasibility is being conducted for a planned urbanisation of available vacant land without affecting any structure, it said. Once the scheme is implemented, local people will be benefitted with civic amenities and improved road services.
The scheme would be finalised after consulting with the local public representative, said the press release signed by the Rajuk secretary. It also urged people not to be misled by what it termed propaganda.