Lift duty on gold import
TIB urges govt to curb gold smuggling, bring discipline in sector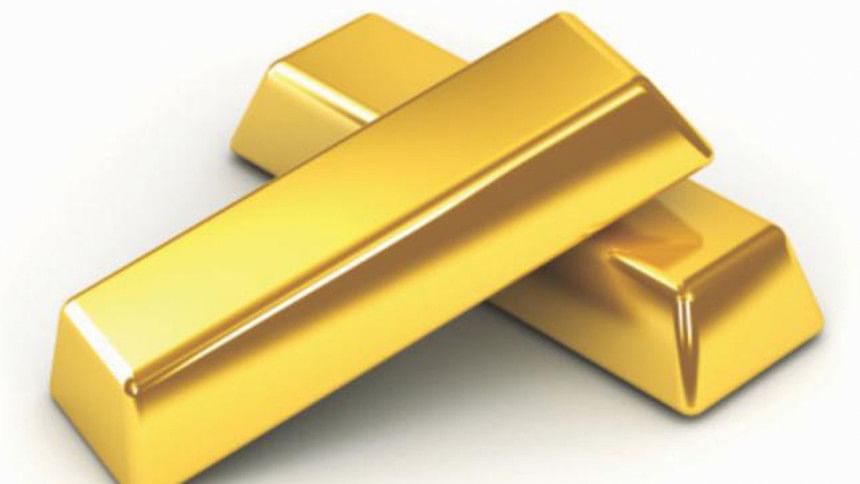 The Transparency International Bangladesh (TIB) yesterday urged the government to gradually lift the duty on gold to free the nation from its smuggling and bring about transparency in its trade.
Reducing import duty and framing a policy on gold would encourage its import through legal channels, TIB said. That would reduce smuggling and create a facilitating environment for trade in the country where Tk 25 crore worth gold is traded a day, the civil society organisation observed.
Currently, import duty of gold is Tk 3,157 to Tk 3,162 for each bhori (11.664 grams).  Under the Baggage (Import) Rules 2016 by the National Board of Revenue, a traveller can bring each bhori of gold by paying Tk 3,000 as duty.
"We have a large market of gold. The metal is popular here. But we do not want the sector to be dependent on smuggled gold and unethical means," said Executive Director of TIB Iftekharuzzaman at a press conference at their Dhaka headquarters.
The TIB recommends gradual cut in import duty to eventually make it zero in light of experience of the countries like the UAE and Singapore. But, highest priority should be given to the fact that Bangladesh must not be used as a corridor for smuggling gold, it said. 
The organisation came up with the suggestion after its study on transparency and accountability in the gold sector in Bangladesh had found that gold market is controlled by gold and jewellery traders.
"The government virtually does not have any control over gold trade, which suffers from lack of accountability. Huge irregularities and corruption also exist in various stages of the sector," said TIB Director (Research and Policy) Mohammad Rafiqul Hassan, presenting the findings of the study.
The TIB said gold smuggling continues in the country with the help of a section of unscrupulous officials of law-enforcement agencies, land port, Biman and private airlines. It added the smuggling ring has roles to create barriers in framing a comprehensive policy on gold import and trade.
"We are following a destructive dual policy. On one hand, we are allowing trade of illegally imported gold in the domestic market. On the other, we have yet to frame a policy to ensure proper import and trade of the metal," said Hassan, who co-authored the study.
He said making as well as sale of gold jewellery is legal in the country, but policy and regulations for import of raw materials are restrictive and time consuming. As a result, the sector mainly depends on smuggled gold.
"It has been an open secret for a long time," he said.
Citing various estimates, the TIB said the number of jewellery shops would be between 20,000 and 100,000 or more with at least 500,000 people engaged in the trade. Annual demand for gold is 18-36 tonnes domestically, it added.
Still import through formal channels does not take place, according to TIB.
A businessperson has to get permission from three ministries -- finance, commerce and industries -- to import gold and has to wait up to 1.5 years for the approval. By this time, the risk of price fluctuation remains in the global market, the study says.
Freighters also do not show interest to transport gold in absence of insurance.
The TIB study came at a time when smuggled gold is caught in the nets of customs detectives frequently at Shahjalal International Airport, the country's premier airport.
In 2016-17 fiscal, customs intelligence seized 623.7 kilograms of gold, up from 121.68 kg the previous year, said the TIB, adding that 1,674 kg of gold was seized in last four years that would otherwise deprive the state of Tk 974 crore in revenue.
According to TIB, this is just the tip of the iceberg as the amount of detection is insignificant to that of smuggled gold.
It blames sluggish progress in trial of cases filed against smugglers, poor investigation and weak framing of charges for corruption and irregularities and absence of witnesses. Influential people connected with smuggling also remain out of the net.
There are also instances that people got involved in smuggling by securing bail two months after arrest, it said.
"Example of punishment is rare," said Iftekharuzzaman.
To establish transparency and accountability, TIB suggests formulation of a comprehensive law.
It also recommends giving amnesty to gold traders and jewellers by registering their stocks of gold in hand on payment of tax for a certain period of time and bringing all gold traders under compulsory licensing to ensure governance in the sector.