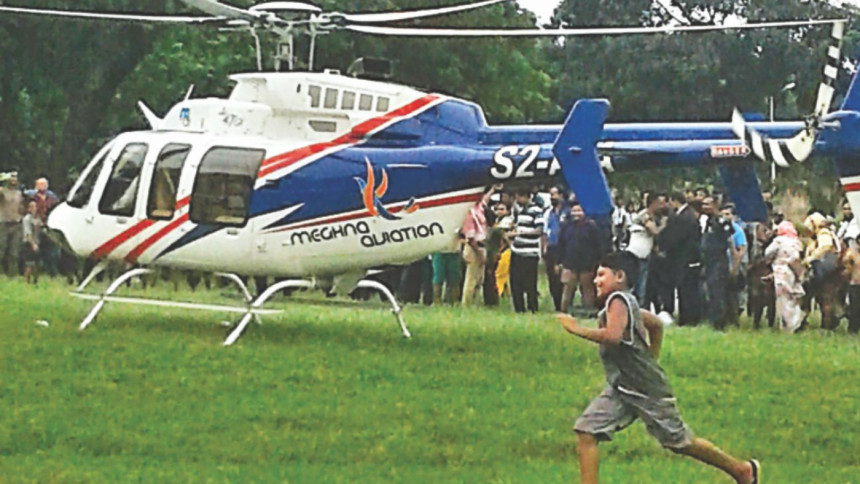 May be Kashimpur Central Jail complex in Gazipur does not look like a prison at all from the air, as a helicopter pilot of Meghna Aviation mistakenly landed there and put its passengers into some serious trouble.
Billal Hossain, an affluent Bangladeshi expatriate in Malaysia, rented a chopper to attend a wedding in Gazipur with his family members. 
Everything was going fine until the pilot mistook the school playground inside the high security prison, and a relatively new one at that, for a school playground of Kuddus Nagar of Konabari where he was supposed to land.
Apparently not noticing the high walls of the prison, the pilot landed inside it around 11:00am, dropped off Billal, his Malaysian wife and three other family members and took off almost immediately.
Billal's obvious expectation of being received by the host of the wedding ceremony was not met. Instead, several jail guards surrounded and detained them.
When they were supposed to be having fancy food at the wedding, they were answering a barrage of questions from the jail authorities.
They had to face interrogation and were released around four hours later, said Senior Jail Superintendent Prasanta Kumar Banik of Kashimpur Central Jail-2.
Prasanta said Billal and his family were on the way to Kuddus Nagar of Konabari in Gazipur from Dhaka but the pilot landed the helicopter on the playground of a school meant for the children of jail staffers.
Shohel Lalit, the helicopter's pilot and also the director of flight operation of Meghna Aviation, wrote to the jail authorities and Civil Aviation Authority of Bangladesh expressing regret, Monjur Alam, officer (account and customer service) of the company, told The Daily Star.