Jamuna Erosion in Tangail: 120 homes lost in a week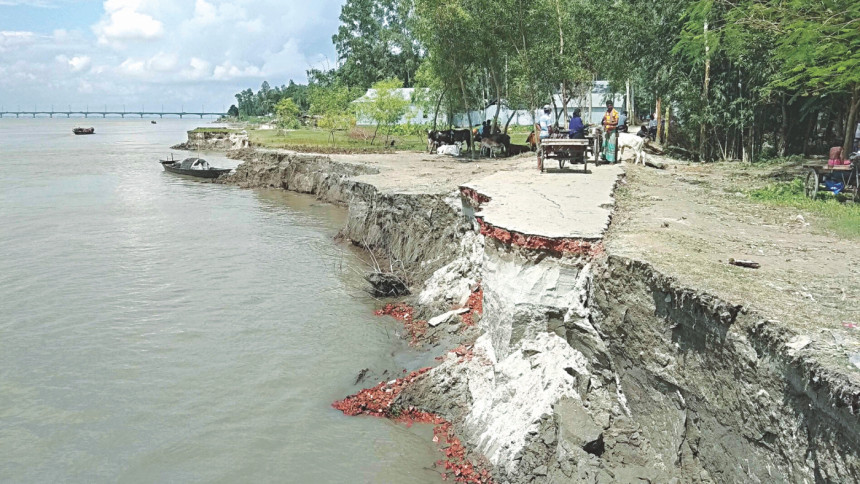 The continuous erosion by the Jamuna is threatening the homes and livelihoods of hundreds in Kalihati and Bhuapur upazilas of Tangail.
On Wednesday and Thursday, at least 28 homesteads were eroded by the erosion in Kalihati while around 100 more were devoured in Bhuapur in the last week, said locals.
Mohammad Sirajul Islam, executive engineer of Water Development Board (WDB) in Tangail, said water flow of the Jamuna was stable yesterday but it caused damage and destruction on Wednesday and Thursday.
The victims of the erosion, most of whom did not get enough time to shift their homes to other places, took shelter either at their relatives' houses or under the open sky. They blamed indiscriminate sand lifting for the erosion and accused local influential people of not listening to repeated warnings from the authorities.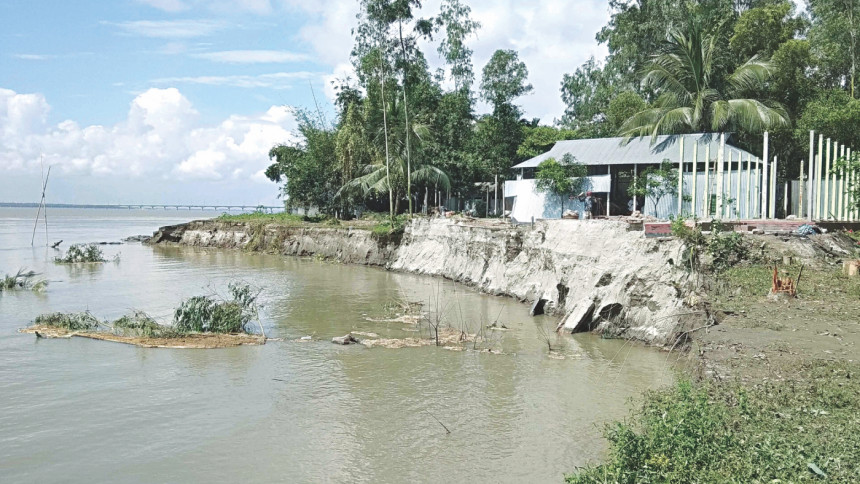 "We had been demanding for a permanent embankment in our area for long, but the authorities did not pay heed to it," said Fatema Begum of Kalihati upazila's Beltia village who lost her house in the erosion and was leaving under the open sky.
Talking to The Daily Star, many more locals of the upazila echoed Fatema's statement.
Asked, WDB official Sirajul said they had a plan to construct a permanent embankment in the area during the next dry season.
"We are preparing CC blocks which will be set on a 600-metre area," he said.
The authorities started dumping geo-bags in the area to prevent further erosion, he added.
Visiting the area yesterday, Tangail Deputy Commissioner Md Shohidul Islam said the district administration would make a list of the victims and provide them with necessary aid.
Tangail-4 (Kalihati) MP Hasan Imam Khan said the government would provide Tk 6,000 and some other assistance to each affected family.
On the other hand, several villages in Bhuapur upazila were badly affected by the river erosion.
The Jamuna was posing a threat to at least two government primary schools, three mosques, a temple and vast croplands in the upazila, said locals.
Earlier in July, around 300 homesteads and vast croplands were devoured by the river in the upazila.