Illegal Building: BGMEA gets 6 months for demolition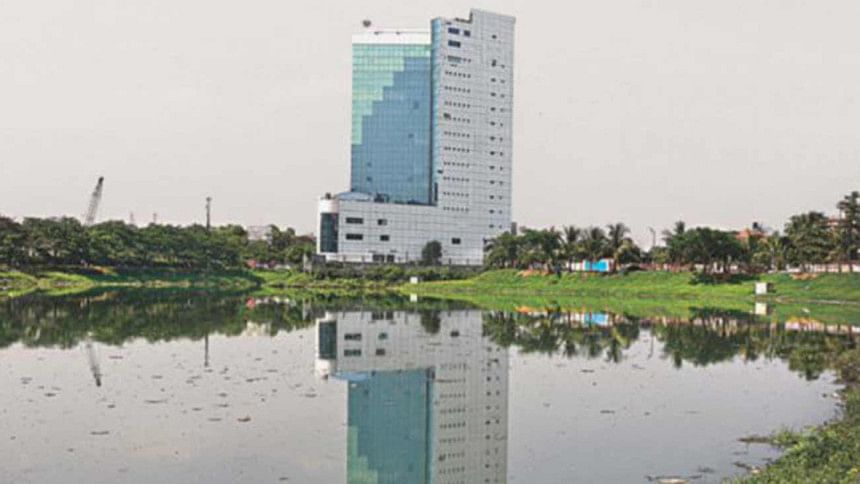 The Supreme Court yesterday gave the Bangladesh Garment Manufacturers and Exporters Association (BGMEA) six months to demolish its 15-storey building, constructed illegally in the capital's Begunbari canal and Hatirjheel Lake.
A three-member bench of the Appellate Division headed by Chief Justice Surendra Kumar Sinha passed the order following a petition filed by the BGMEA on March 8 seeking three years for shifting the offices from the building.
The apex court said three years was unacceptable as the BGMEA was a wealthy organisation and it could run its offices hiring rooms at the Sheraton hotel or any other place in Dhaka.
The BGMEA has already applied to Rajdhani Unnayan Kartripakkha (Rajuk) to allocate 5.5 bighas of land in the capital's Uttara for constructing its office building, Barrister Imtiaz Moinul Islam, representing BGMEA, told The Daily Star.
On March 5, the SC dismissed a petition filed by the BGMEA seeking review of its judgement upholding a 2011 High Court order for demolishing the structure. It had also asked for the time petition.
Imtiaz said they sought three years as the offices there were dealing with many important issues, including export and import of garment items and accessories and those needed to be preserved.
The HC verdict had ordered the government to demolish the building within three months, saying it was built on land acquired through forgery and filled with earth illegally.
Later, the SC stayed the HC verdict following a petition by the BGMEA.
On June 2 last year, the SC gave a short order, dismissing the BGMEA appeal and upholding the HC verdict.
The SC released the full verdict on November 8, asking the BGMEA to immediately demolish the building with its own money. Otherwise, Rajuk would do it within 90 days of receiving the order and realise the cost from the BGMEA.
The BGMEA submitted the review petition on December 8.