Good days for salt farmers
Profit first time in three years as govt discourages import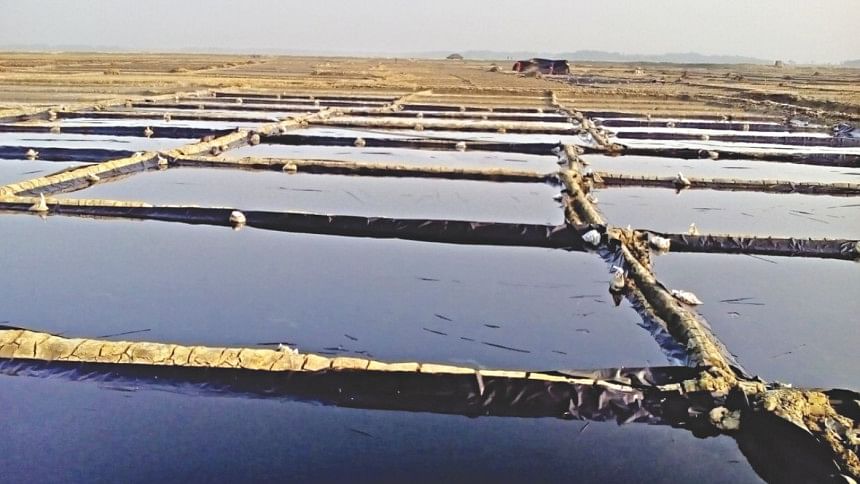 Several thousand salt producers are happy seeing profits for the first time in three years after the government took up a policy discouraging import of salt.
Salt producers of Cox's Bazar, who meet most of the national demand, have comfortably recouped their production cost this season, in stark contrast to the three previous years when their earnings could bearly cover half of the production costs.
In the last three seasons, salt producers faced financial hardship as they did not get a fair price. As the earning was lower than the production cost, many were discouraged to go on all-out production leaving several thousand acres unutilised.
The situation has now changed dramatically. Some 65,000 acres of land in Cox's Bazar and around 5,000 acres in the coastal upazila of Banskhali of Chittagong are being used for salt production.
A target of producing 18 lakh tonnes of salt from 61,000 acres of land in Cox's Bazar has been set this season, between December 2015 and April 2016, said Md Absar Uddin, acting deputy general manager of Salt Project under the Bangladesh Small and Cottage Industries Corporation (BSCIC), the government agency responsible for monitoring and ensuring production of quality salt.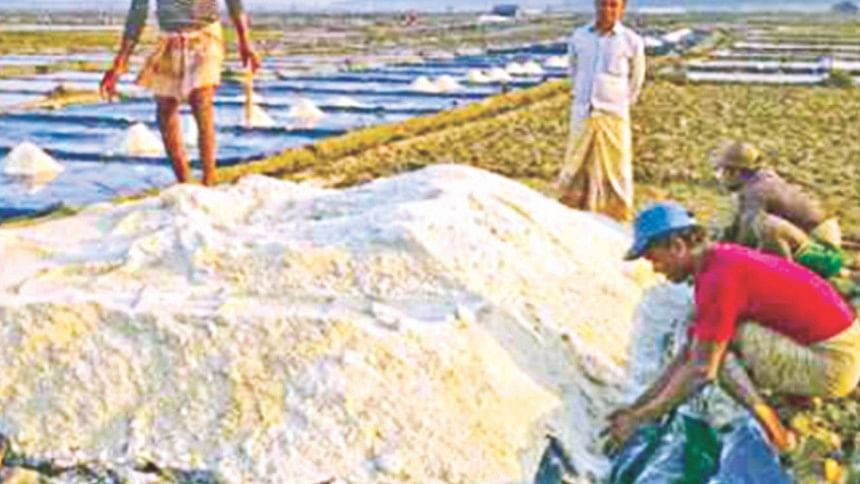 The target is enough to meet the domestic demand, which the industries ministry is yet to fix for this year.
Last year, the demand was 17.2 lakh tonnes and it is assumed that the figure would be around the same this year, according to officials.
As of January 8, salt production stood at 74,035 tonnes, which was 40,000 tonnes during the same time last season.
Last year, the production target was 16 lakh tonnes and the actual production was 16.27 lakh tonnes.
Salt producer Md Asadullah of Banskhali said he incurred a loss of Tk 3 lakh last season.
Production cost of a maund of salt is Tk 150-155, he said. Last year a maund of salt sold for Tk 80-90.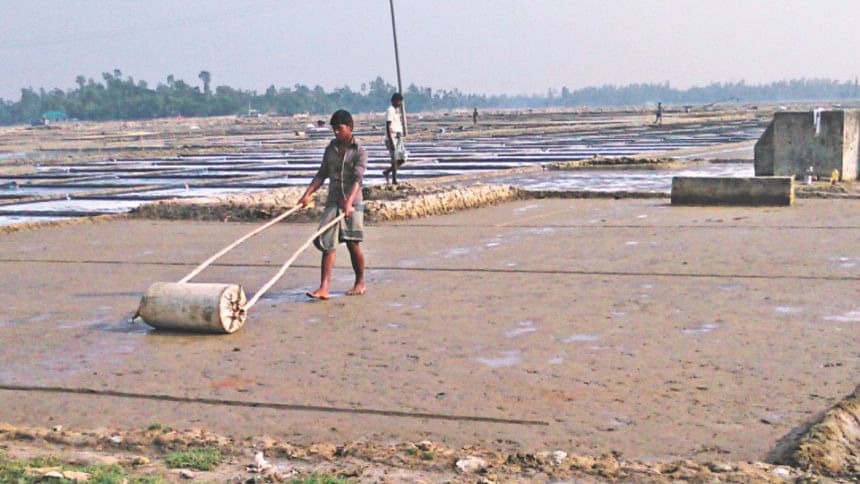 However, he sold a maund of salt for Tk 390 on January 11 this year.
Salt producer Mohammad Alamgir of Pekua upazila said he sold salt for Tk 380 a maund on January 8, while his production cost was Tk 150 per maund.
Ashabuddin, fellow salt producer of Kaiyarbil in Kutubdia upazila, said he sold each maund for Tk 390 on January 10.
Abdul Halim of Moheshkhali, the country's biggest salt producing area, said, "The fair price of salt will have a positive impact on the local economy."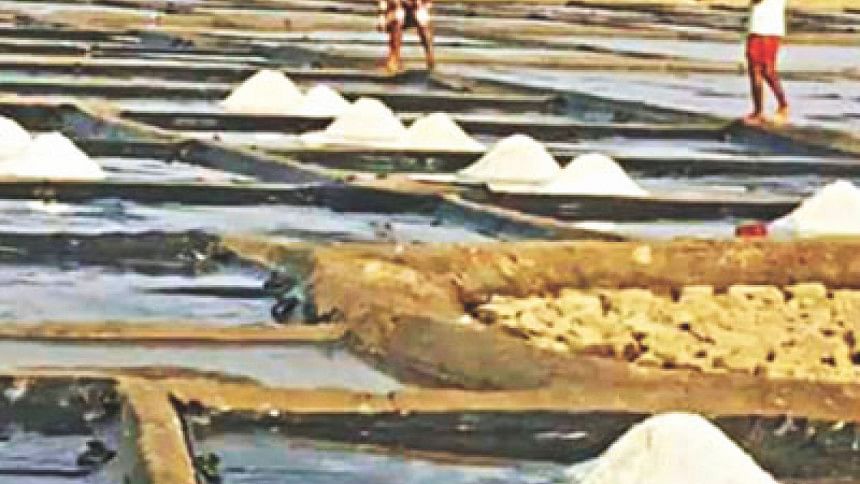 Md Shafiq Miah, president of Teknaf Upazila Salt Farmers' Unity Council, said some producers were seriously affected in the last three years as the price dropped.
If the present market price continued, salt production would go beyond the set target, he hoped.
About 5 lakh people are engaged, directly and indirectly, in salt production and marketing, including 55,000 marginal salt producers in Cox's Bazar, according to the BSCIC.
In 2011, the government introduced the National Salt Policy, 2011, which calls for discouraging import of salt.
Lawmaker Asheq Ullah Rafiq of Cox's Bazar-2 (Moheshkhali-Kutubdia), said the government had decided not to allow import of salt this year.
The decision's positive impact had already been seen, he observed.